BAK 40 Motorsports Thomas Reihner Podiums at Crandon
TORC Pro UTV Report • Round 11 • Crandon Big House
Connellsville, PA (9/18/2017) - Bak 40 Motorsports' Thomas Reihner finished a career-best third in the TORC Series Pro Modified race at Crandon International Off-Road Raceway in Wisconsin. The privateer racer, teamed with Eric Gordon, fought his way through the pack on the wet and slick course to score his first podium in his rookie TORC season.
Bak40 Motorsports' Thomas Reihner scored his first TORC Podium of the season at Crandon's Big House
Driving a Can-Am X3, Reihner showed patience and true race craft as he made decisive moves on his way to the front. Despite the muddy and rough conditions, he came away with the podium.
"This was definitely the most exciting day of my career," said Reihner. "Eric and I started years ago and it's been a great team effort. To be on the podium really made it all worth it and gave us the push to keep going. We know we can do it."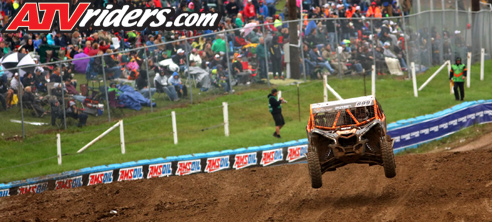 Bak40 Motorsports' Thomas Reihner charged his way to a third place finish at Round 11 of the TORC Series
Reihner overcame the tough conditions, as well as some seriously stiff competition from several factory-backed teams. "I made good decisions and let the front group set the pace," said Reihner. "I knew I could keep pace with the guys in the front. So I tried to use their lines and pushed my car."
Gordon was also running a competitive race before being hit by another car on the mid-race restart. He nursed the car to the finish, but finish he did. "I made it through the first couple of turns well and settled into a good pace," said Gordon. "I had a little trouble with the restart and got hit on all four corners. I had a part break and that ended my race with two thirds of a lap to go. All in all, though, it was a good weekend for the team."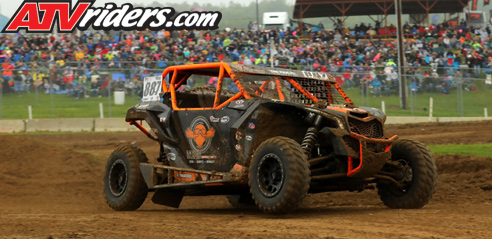 Bak40 Motorsports' Eric Gordon finished 11th in the Crandon World Cup on Sunday
Both racers also competed in the Crandon World Cup race on Sunday. Reihner finished seventh in the special non-points event, while Gordon drove a damaged car to an 11th-place finish. Gordon thanked CT Race Worx for its efforts in building a car that could take the punishment and still compete.
"Our car really took a beating both days," said Gordon. "We didn't break one of the CT components despite a lot of contact. It allows our car to take an impact and not have a huge effect on the rest of the car. They really allowed me to compete in Sunday's race. Even as twisted up as the car was, it made it through 15 laps on Sunday. The CT parts are top notch."
Bak 40 Motorsports is in its first year of competition in the TORC Series. Started as a privateer effort to allow Reihner and Gordon to live out their dreams to race competitively, they started out the season with realistic goals of qualifying for every race. Because of their recent successes, they are raising the bar for themselves.
"As the season progressed, we set our goals higher to get top 10s and even top fives," said Gordon. "I couldn't be more excited about how the season has gone. We have really exceeded our expectations as to what we thought we'd be able to accomplish this year."
Part of that success is due to Can-Am's X3. The race-ready ride has proven itself in every round this season, especially at Crandon.
"This is our first year with the X3 and they are just awesome machines out of the box," said Reihner. "We are running mostly factory parts on the car. The motor is completely stock with an Evolution Powersports tune for more boost. It's a solid car. You don't have to overdrive it. The car just does the work for you. It gives us a serious advantage."
Though they don't have nearly the funding of the factory teams, what they lack in money, they more than make up for in grit and determination.
"We may not have the resources of the some of the bigger teams, but we will go out there every race weekend and give it our all," said Gordon. "We pride ourselves on running at the professional level."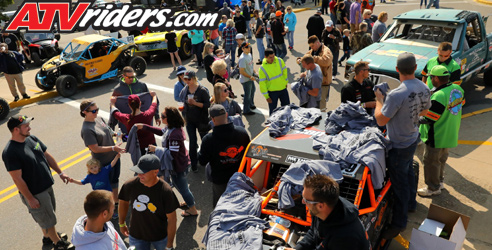 Bak40 Motorsports' teamed up with Kyle Chaney to give away 1,000 T-shirts during the downtown Crandon Parade on Friday
Creativity in marketing has also been a plus. Gordon and Reihner teamed up with factory Can-Am racer Kyle Chaney during the Friday parade in downtown Crandon and handed out 1,000 Bak 40 T-shirts to the 60,000-plus fans in attendance. For them, though, it was just a way of giving back.
"The fans are awesome," said Reihner. "We got together with Kyle Chaney and Can-Am for the parade and printed up shirts with some of our sponsors to give to the fans. It was nice to give back to the fans and then see our shirts in the stands during the race."
Those sponsors are what have helped them to compete at the pinnacle of short-course UTV racing. Along with Can-Am and CT Race Worx, the team has several big-name sponsors on board this season, including Evolution Powersports, Method Wheels, KWI Clutching, Rugged Radios, and Double E Racing suspension.
"Method Wheels is excited because we were the first and only Can-Am team to run their wheels," said Reihner. "Chris with KWI Clutching was spot-on from the get-go. He gave us the setup at the beginning of the year and we've been running it all season. Rugged Radios got us a pretty good deal on communications equipment. George White with Double E Racing has been helping us with our suspension from day one. He has helped us at every single race. We are truly blessed to have their support."
The Bak 40 story is one of dreams. Started in a warehouse, the team has evolved into a full-on racing team with a true race shop.
"When Thomas and I decided to race, we were working on our cars out in the back 40 feet of my company's warehouse so that's where the Bak 40 name comes from," said Gordon. "We started out with one machine and we grew from there. Now we're in a full-fledged race shop."
Gordon and Reihner now head into the final race weekend of the 2017 TORC season. The tripleheader event will likely be difficult on the team. Considering everything else they've overcome, look for them to up front.
"Three rounds in one weekend is a lot on a team," said Gordon. "A lot can change in that one weekend. We have work hard for the next three weeks to make sure the car is running perfectly. We're excited about the challenge."
Bak 40 with Gordon and Reiher will be ready for action during the final three TORC Races September 23-24 at ERX Motor Park in Elk River, MN.
Bak 40 Motorsports Sponsors:
Method Race Wheels, Rugged Radios, GBC Motorsports, CT Race Worx, Evolution Powersports, SPARCO, Double E Racing (E2R), Can-Am, Dominick Racecar Fabrication, NRG Innovations, On-Crete Concepts.