Thomas Reihner Top Five in TORC Pro Championship
TORC Pro UTV Report • ERX Motor Park Season Finale
Connellsville, PA (10/3/2017) - BAK 40 Motorsports' Thomas Reihner backed up his podium finish at Crandon to score a top five during the TORC Off Road Series triple header season finale at ERX Motor Park in Elk River, MN. Reihner's late-season consistency handed him fifth in points in the Pro Turbo class in just his first year of competition. David Plavi also scored two fifth place finishes as a substitute driver for Eric Gordon.
Driving a Can-Am Maverick X3, Reihner was thrilled by ERX's track during the tripleheader weekend. The purpose-built facility outside the Twin Cities boasts one of the top circuits in the country with a consistent racing surface and its unique split lane section.
Bak40 Motorsports' Thomas Reihner his way to a 5th place finish on Friday in the Round 4 make-up race at ERX
"We had a good and consistent weekend," said Reihner. "I bumped up in points for fifth and I couldn't be happier in my first year in the Pro class. My Can-Am was absolutely on point and we have big things coming next year."
Reihner was pumped up by the legendary Minnesota off road racing fans and the atmosphere at the facility: "The track was phenomenal," said Reihner. "There is no better place to race than here. The consistency of the track, the fans and the atmosphere are second to none. I love racing here."
Can-Am's' Thomas Reihner finished out the TORC season Top 5 in the Pro Mod UTV Points
Teammate Eric Gordon wasn't able to race due to a family wedding. He tapped David Plavi to race his Can-Am Maverick in his place, and he didn't disappoint wit a pair of fifth-place finishes pushing Gordon to 12th in points.
"I missed the best race of the season, but we had a great backup driver," said Gordon. "I was hoping to be back for the qualifier, so I could race on Sunday, but he qualified great and I didn't want to take the limelight away from him, so I watched from the spotter's stand."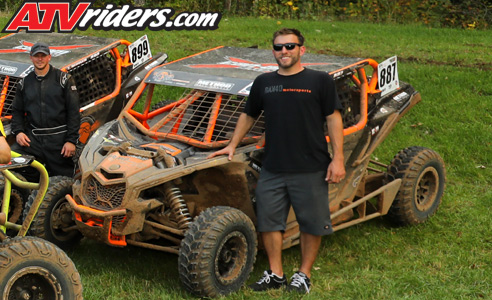 Bak40 Motorsports' Eric Gordon didn't get to race at the TORC season finale due to a wedding, but he still showed up to support his team on Sunday
Gordon was amazed at his first season in TORC. He is looking forward to getting back on track in 2018.
"We're still blown away with the season," said Gordon. "We didn't know what we were getting into, but we're in love with this series. We can't wait to get back next year."
Plavi was impressed with his first time racing the Can-Am Maverick X3. Despite zero time in the car, he snagged two fifth-place finishes on the weekend.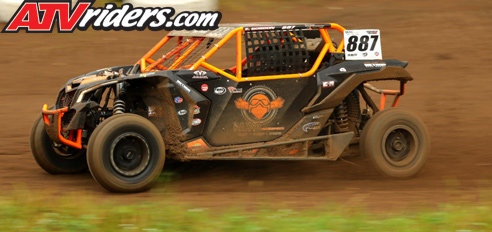 Bak40 Motorsports' David Plavi made an impressive debut in the Can-Am Maverick X3 by claiming two top five finishes for Eric Gordon at the TORC season finale
"I flew up, got the track, and jumped in the driver's seat with no practice," said Plavi. "It took awhile to get used to because I was used to the original Maverick. The X3 is a little longer, but the car's power and handling is beyond anything I've ever driven. It was a little bit of a challenge, but I think we did a good job considering."
BAK 40 Motorsports' Gordon and Reihner have big plans for the 2018 TORC season.
Bak 40 Motorsports Sponsors:
Method Race Wheels, Rugged Radios, GBC Motorsports, CT Race Worx, Evolution Powersports, SPARCO, Double E Racing (E2R), Can-Am, Dominick Racecar Fabrication, NRG Innovations, On-Crete Concepts.