Moreno Valley, CA (2/22/2017) - BDR Motorsports' Larry Heidler finished third on Saturday in the WORCS SXS Pro Class at Honolulu Hills Raceway in Taft, California. The event started off a bit rocky when a red flag came out and a restart was ordered after reports were heard of racers having issues with the course markings. Heidler, along with his naturally aspirated BDR Motorsports car, clearly was not affected by this restart.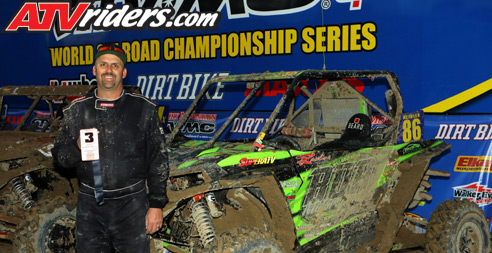 BDR Motorsports' Larry Heidler took home third on Saturday in the WORCS SXS Pro Class at Honolulu Hills
"The first start we actually had an issue, so they started us twice. But on the first start, I ended up fourth behind Beau Barron, and kind of ran there. Then we came around about the second lap, and they shut it down. There was a red flag due to issues on course markings so they restarted us," Heidler explains. "On the restart, I got fourth again, but I was behind Cody Bradbury this time. About half-way through that first lap, I saw Cody was having some issues, so I got around him and started pushing and driving as hard as I could. I knew I was third at that point, so I was trying to keep up on time because of the road behind me."
Saturday's weather was a bit unpredictable. The morning had started out warm and sunny, but then became overcast most of the afternoon with spotty rain and mild temperatures. Luckily the weather was not a factor during this race.
Larry Heidler decided to go with a bigger 29" Dirt Commander GBC tires that could really dig in since the mud was thick from Friday's rain
"I don't think there was one of my competitors out there that wasn't checking their phone on a minute to minute basis this whole entire week trying to predict what kind of weather we were going to have. How's it going to be? Rain? Shine? I was really thankful for all the prep work BDR Motorsports did to my car in preparation for this race, which really paid off," expresses Heidler. "GBC got me a different set of tires this weekend we were going to try to run, but they were more of a mud tire. Woke up today to sunshine, and the track had dried out really well. I can't thank the WORCS crew enough. They busted their butt trying to get us a good course out there; track was fun, what else could we ask for? We were expecting a mud bath, but my car's really not that bad, you'll see it."
Heidler's GBC tires played a huge part in his performance today. Because the mud on the track was so thick, he had decided to go with a bigger tire that could really grab the ground.
"Generally, I usually run a 28 Mongrel. But for this round, because of all the muddy conditions and everything, I went to a 29-inch dirt commander. Boy I tell you what, they hooked up off the start!" exclaims Heidler. "I was right there with those turbo cars and I'm on a naturally aspirated car. I kept up with them through the mud section and everything. It pulled hard."
Heidler's FOX shocks maximized his performance today as he hurdled Honolulu Hills Raceway's famous "step-up" jump.
Despite the course getting rougher, Larry Heidler kept at it in his Polaris RZR XP 1000 for Round 3 to score his first WORCS Pro SXS Podium finish
"I couldn't ask for anything better. As the race went, the course started getting rougher and rougher, and I just kept going. I mean, I like to see my lap time and I'm pretty sure I did well, but it wasn't bad at all. It pulled hard. Going through the rough section it handled really well. And that big monster jump? Man, my car took that thing on every single lap. I've hit it several times in the past with my old car and it was pretty much the same thing. I wasn't too concerned. I saw the guys up front of me do it, so I chased them over it," says Heidler.
Heidler also owes a lot of his handling to his Hess Motorsports steering quickener system.
"Those things, they save your life more than once," Heidler testifies. "They keep my hands on the steering wheel without having to go over-over and they work great. I love them."
Leaving this event completely content, and with quite a bit of confidence, Heidler turns his focus towards his next one.
"I was fourth at the last round coming into this weekend and getting third this time, man, that's the highlight of my racing career so far," says Heidler. "I'm looking forward to Havasau and we're going be pushing to get to there."
Heidler will return to WORCS competition as the series heads to Lake Havasau City, AZ on March 17-19, for the next SXS race.
Larry Heidler 2017 Sponsors:
BDR Motorsports, GBC Motorsports, Super ATV, AVI Wraps Raceline Wheels, FOX Shocks, Maxima Oils, Hess Motorsports, Beard Seats, Tire blocks, Factory UTV, R3 Fabrication, Malcolm Smith, Troy Lee Designs, Skat Trak