Moreno Valley, CA (3/22/2017) - BDR Motorsports' Larry Heidler finishes sixteenth on Saturday in the WORCS SXS Pro Class at The Crazy Horse Campground in Lake Havasau City, Arizona. Heidler and his naturally aspirated BDR Motorsports car initially had gotten off to a great start, but after that first 150 feet, he took a hit coming into a crowded first turn, causing his front passenger axle to break and the tire rod to bend.
"We spent some time getting the car all prepped; made some changes to it. Got it to the starting line, made it to the first turn, and with the way that some side by side racers seem to think, they believe can just run right through you," explains Heidler. "I broke my passenger side front axle and bent the tire rod at that first turn, which was about 150 feet from the start, and with the way the terrain is at Havasau, without four-wheel drive, you hardly have any forward drive. Which makes it difficult to race that course."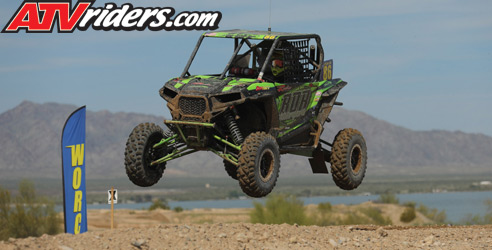 BDR Motorsports' Larry Heidler was off to a great start but took a hit coming into a crowded first turn in the Pro SXS class
Although Heidler had experienced this misfortune early in the race, he was still able to maintain a fourth-place position for a couple more laps, but then ran into another issue as he approached Lake Havasau's "Lagoon Jump."

"I wasn't sure if it was my axle or a rock that got stuck in my tire, but right by the Lagoon Jump my car just came to a screeching halt, says Heidler. "It took me probably two to three minutes to get that thing un-lodged and back going again."
Because of these unfortunate mishaps, Heidler ended up finishing sixteenth on this Saturday's event, dropping him down from third place to fourth in the points standings, but that didn't bring him down.
"Knowing where I stand right now, makes me feel a little more confident going in to Vegas," says Heidler. "All I can do is forget about this last weekend, start prepping the car, charging for Vegas, and keep moving forward. That's racing. That's the way things go sometimes."

Lake Havasau's "Lagoon Jump" seemed to be the biggest concern for nearly all the racers this weekend. With all the heavy rain this year, the Lagoon Jump water level had gotten a lot higher, and instead of a couple foot gap like it has been in the past, the water had stretched out at least fifteen to twenty feet from the base of the jump. When the racers launched over it, most were landing on the edge of the water and splashing as they would come down into it. Others were having troubles with their vehicles bogging out, and couple racers even wrecked going over The Lagoon just from hitting the water alone. Larry Heidler was among the concerned racers.

"Friday before they changed the jump, it was quite interesting watching the other guys go over it. I originally had opted out on trying to hit it because I didn't think it was worth the risk," Heidler expresses. "But after they made some changes to it Friday evening, I walked it out and looked at it, then decided to hit it a few times. It wasn't too bad."

Lake Havasau's venue is one of the series' favorites, because it happens during Spring Break. The track is located right on the lake, which attracts a huge crowd of boaters rolling in and pulling up anchor right along the shoreline. Fans gather around, some even standing out in the water, and watch the racers as they speed along the edge of the lake.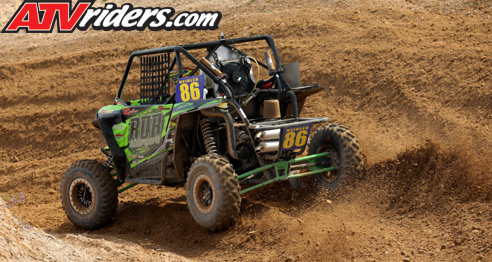 Larry Heidler's finish dropped him from third place to fourth in the points standings after his unfortunate sixteenth place finish
"Havasau is always an interesting place," says Heidler. "It definitely is a place that you either love or you hate. I love Havasau for the boating. The track wasn't bad, which really surprised me, especially for the race being so early in the day. The WORCS guys laid out a great course. It's always rocky, but there isn't anything you can do about that. It's a fun place. I race this course with both quads and side by sides, and I definitely like it better with the side by sides."
Despite the obvious issues Heidler had experienced in the beginning of the race, he had no complaints whatsoever about the performance of his naturally aspirated BDR Motorsports car in this Saturday's event. With his GBC dirt commanders and FOX shocks, Heidler's car handled this challenging course comfortably.

"We got a pretty decent jump on the start until we all came together. My GBC tires were running 29-inch dirt commanders and they ran great. My suspension was working amazing out there, especially as we went on and the course started to get rougher," describes Heidler. "My car just soaked it up more and more thanks to my FOX shocks. That's a huge hit in my opinion."

Although Heidler's luck didn't run well for him in this week's course, he is still sitting in the top five as the series nears its halfway point.

"Being fourth, I'm still on the hunt. I just need to buckle down, put my head down, focus on each round as it comes, keep pushing forward, maintain every point that I can, and finish the best I can. BDR Motorsports never fails to make sure that my car is running perfectly," explains Heidler. "I've only had to experience a few small malfunctions from broken parts, which each are from different situations, but other than that I can't thank everyone enough; Maxima Oils, everybody. It takes a team effort to get to the finish line now-a-days."

Heidler is looking forward to returning in full force at the next WORCS competition, as the series heads to Las Vegas, NV on March 31- April 2, for the next SXS race.
Larry Heidler 2017 Sponsors:
BDR Motorsports, GBC Motorsports, Super ATV, AVI Wraps Raceline Wheels, FOX Shocks, Maxima Oils, Hess Motorsports, Beard Seats, Tire blocks, Factory UTV, R3 Fabrication, Malcolm Smith, Troy Lee Designs, Skat Trak