Moreno Valley, CA 4/7/2017) - BDR Motorsports' Larry Heidler overcame bad luck during the WORCS SXS Pro race weekend at The Orleans Arena in Las Vegas. With the help of several of his fellow competitors, Heidler got on track and earned some points, despite some early issues.
Despite fully preparing his car prior to the event, Heidler chased a four-wheel-drive issue early in the weekend. After discovering a broken output shaft in the transmission, several competitors, including Randy Romo, Ryan Piplic and Terry Johnson stepped in to help him get on track in time for the race.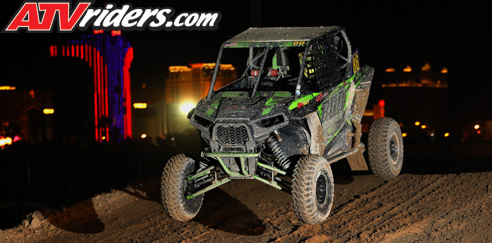 BDR Motorsports' Larry Heidler just finished fixing his RZR before the race with the help of several of his competitors, which shows the true sportsmanship among WORCS Pro SXS Racers
"A lot of fellow racers stepped up to help me," said Heidler. "Randy Romo opened his trailer full of parts for me to borrow, and Terry Johnson had a spare tranny that he loaned to me. Saturday at 1 p.m., I went to grab something to eat. I came back an hour and half later and Ryan Piplic had grabbed my car and changed out my transmission for me. I can't thank these guys enough. It's amazing to me that the guys who compete against me helped me to get back out and race. In a Pro class, at our level, it's winner takes all. This really is a family here at WORCS."
The Las Vegas racecourse was unique on the WORCS tour. Set up in the arena and the parking lots surrounding it, the track featured multiple different racing surfaces, including hard-packed dirt, pavement, a log section, a sand pit and even a big air jump leading out of the arena section. Despite experiencing electrical issues during the race, Heidler's car stood up to the punishment.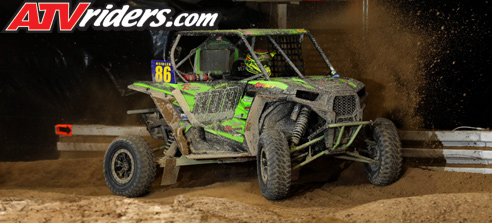 GBC's Larry Heidler didn't have the finish that he expected, but he is still in the points hunt holding down the 7th Spot, but just one point out of the top five against some tough competition
"We were hitting 17-inch diameter logs head on and my Fox Shocks just took it," said Heidler. "My GBC Mongrels and Raceline Wheels were working well on both the dirt and the pavement; they were a great tire and wheel selection. My Super ATV axles held up perfectly. Unfortunately when you have issues early in the weekend and have to tear down the car at the track, electrical issues can crop up."
Though he finished 13th in the race, Heidler is still well in the hunt for the championship, sitting just one point out of the top five. He is looking forward to the next race in Utah to bounce back.
"We've had some difficulties in the last two rounds, but we're still in the thick of it," said Heidler. "This is a tough class. These guys are the best out there, and this is my first full year as a Pro, so we have some hard work ahead of us. We're getting there."
Heidler will shake off his bad luck and come back strong as the WORCS series next heads to Sand Hollow State Park in Hurricane, UT April 21-23.
Larry Heidler 2017 Sponsors:
BDR Motorsports, GBC Motorsports, Super ATV, AVI Wraps Raceline Wheels, FOX Shocks, Maxima Oils, Hess Motorsports, Beard Seats, Tire blocks, Factory UTV, R3 Fabrication, Malcolm Smith, Troy Lee Designs, Skat Trak