Moreno Valley, CA 4/27/2017) - BDR Motorsports' Larry Heidler finished ninth in the WORCS SXS race at Sand Hollow State Park in St. George, UT. Heidler made his first start at the venue and continues to be the top WORCS rookie, sitting sixth in points and just 3 points out of the top five.
BDR Motorsports' Larry Heidler charged his way from the back of the pack to a to 9th place finish by the checkered flag
The picturesque racing venue is known both for its beauty and its toughness. This year's track was shorter than in years past. The traditional deep sand whoops and rocks submerged under the sand remained as did the roughness the track is well known for.
Driving a naturally aspirated Polaris RZR at a track that gives turbocharged cars a distinct advantage, Heidler recorded a clean and consistent result on what is arguably WORCS most difficult track. He got a great start and held strong in the top ten all race.
"Running a NA car against the turbos was tough here," said Heidler. "This is my first time here and the track was fun. The Fox shocks soaked up a lot of stuff because there were a lot of rocks out there."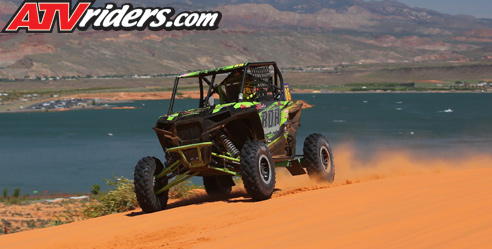 Larry Heidler gives credit to GBC & Tireblocks for getting him to the finish line with a top ten finish, which currently has him 6th in the points championship
The deep sand on the track here hides much more dangerous obstacles: sharp rocks. He took several hard hits from the rocks, but his Raceline wheels and GBC Tires with Tireblocks helped him to the finish.
"The Tireblocks are a big reason I finished the race," said Heidler. "I hit several submerged rocks hard and the Tireblocks helped hold everything together. I ran the 29" GBC Dirt Commanders here. They got me a good start."
Heidler, who has experienced several issues with his car early in the season, is happy to score a clean finish. In fact, at the last WORCS race, he spent hours tracking down issues with his car. Despite the difficulties, the hard work paid off with no issues here. He will be unveiling a new Polaris at the next race.
"We finally got all of the bugs worked out of the car today," said Heidler. "I have a new car coming for the next round, so we'll see what happens."
Heidler will be back in action May 19-21 during the next round of WORCS competition at Iron Mine Racepark in Cedar City, UT.
Larry Heidler 2017 Sponsors:
BDR Motorsports, GBC Motorsports, Super ATV, AVI Wraps Raceline Wheels, FOX Shocks, Maxima Oils, Hess Motorsports, Beard Seats, Tire blocks, Factory UTV, R3 Fabrication, Malcolm Smith, Troy Lee Designs, Skat Trak