Moreno Valley, CA (6/22/2017) - BDR Motorsports' Larry Heidler recovered from a hard crash to finish ninth in the WORCS Pro Production SXS race at Glen Helen Raceway in Devore, CA. Heidler was running his second race in his new Polaris RZR Turbo.
Heidler was in the midst of a competitive run when his car slid on the entry to one of the jumps. The car landed hard nose first. Heidler motored through and finished ninth in the race.
"I made a little mistake going onto a tabletop and lawn darted myself," said Heidler. "I just slipped off the face of the jump and landed on the nose. My neck is pretty sore. I'm going to get checked out and go from there."
GBC Motorsports' Larry Heidler
Despite the crash, Heidler enjoyed the race weekend. After running a DIRT Series race here last weekend, he had the car dialed in before bad luck took him out of contention.
"The course was fun," said Heidler. "It was fast, not too rough and I had a good time. The GBC Tires were hooking up well and the Fox Shocks were perfect."
Unlike some pro racers, Heidler has a day job and he works hard to make sure his racing program stays on track. It helps that his family is super supportive.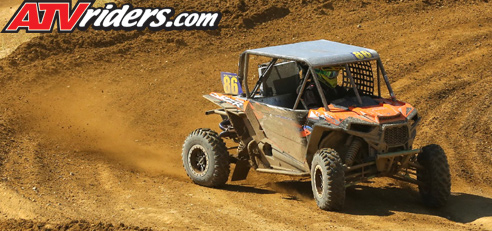 BDR Motorsports' Larry Heidler
"I worked last night in Oakland, took a flight, got home and made it here just an hour before the race," said Heidler. "Luckily Glen Helen is only 20 minutes from the house. Everything was loaded and ready to go. My wife got my gear together and my son brought out the motorhome. It took my whole family to get me out here this weekend."
Heidler is still getting used to his new, more powerful Polaris. He drove a naturally aspirated car for the first six races of the season.
"I'm still getting used to the new car," said Heidler. "The summer break will be good because I'll be able to test more and get up to speed. We need to work on our suspension setup. It's just a totally different animal compared to the NA car."
The WORCS Series now heads into its two-month summer break before returning to Glen Helen. Heidler will be ready to roll at his home track when the series holds its second-to-last race of the season here September 8-10.
Larry Heidler 2017 Sponsors:
BDR Motorsports, GBC Motorsports, Super ATV, AVI Wraps Raceline Wheels, FOX Shocks, Maxima Oils, DASA Racing, Hess Motorsports, Beard Seats, Tire blocks, Factory UTV, R3 Fabrication, Malcolm Smith, Troy Lee Designs, Skat Trak