Moreno Valley, CA (9/13/2017) - BDR Motorsports' Larry Heidler he made significant progress in the development of his Polaris RZR Turbo during the SXS Pro race at Glen Helen Raceway in Devore, CA. The event was round 10 of the 2017 WORCS Series.
Heidler was quickly up to fourth and charged into third at the start of the race. Coming out of the wash section, his car experienced a false neutral. After spending time diagnosing the problem, Heidler rejoined the field.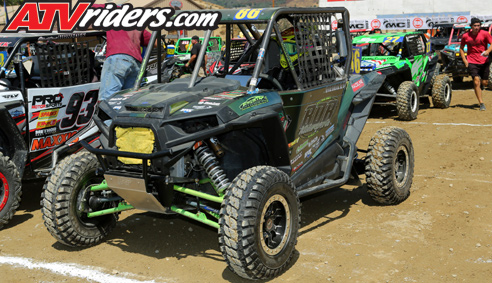 Larry Heidler had his Polaris RZR wrapped over the summer by AVI Wraps with a chameleon gold to green color changing vinyl
"I got a good jump off the line and I was sitting fourth until the first uphill," said Heidler. "I passed Hancock on the uphill with the power of the turbo. Benchmark Performance came on board recently and they made my car really come alive. I was chasing down Cody and Piplic in the wash section. Coming out, the car landed funny and my power steering was acting up. I hit a switch to reset my power steering and took off again. I got three quarters of the way through the first lap and the car stopped. I thought I might have broken a belt or had a transmission problem, but I found out I had a false neutral."
Heidler ran hard from there, but the lost time took its toll and he finished 13th. What the results didn't show was the progress he's made with both power and his Fox shocks.
"My results really didn't show how well the car did today," said Heidler. "My Fox shocks were working awesome. We keep pushing every round to make the car better and we really hit a gold mine this weekend."
GBC Motorsports' Larry Heidler finished 13th at Glen Helen
Heidler, who lives in Southern California and works in the Bay Area, was in typical thrash mode to get ready for the race. He installed a new set of Fox shocks and received setup information via Fox's customer service. The numbers worked.
"I spent some time on the phone with Dustin at Fox on Friday and we made some major breakthroughs on my suspension," said Heidler. "The car handled awesome. We had a brand new set of shocks. We went out in unclassified and I realized the suspension was so much better."
Heidler borrowed a car from Darrell Patton and raced in the Pro Stock race on Saturday. He used the event as a test session to find the right lines around the challenging track.
"It was more to get out and see the track to understand the lines better," said Heidler. "Some of these guys are running two classes and they're getting a lot more track time than I am. I was trying to do the same."
Heidler's car performed well and it also looked the part. He unveiled a new "chameleon" wrap courtesy of AVI Wraps.
"I wanted to have something no one else had out here and AVI Wraps delivered," said Heidler. "That thing is definitely one of a kind. It's like a chameleon. It goes from gold to green and green to gold depending on how you look at it. I think it looks pretty good."
Heilder next heads to the WORCS season finale October 6-8. The race will be held at Adelanto Stadium.
Larry Heidler 2017 Sponsors:
BDR Motorsports, GBC Motorsports, Super ATV, AVI Wraps Raceline Wheels, FOX Shocks, Maxima Oils, DASA Racing, Hess Motorsports, Beard Seats, Tire blocks, Factory UTV, R3 Fabrication, Malcolm Smith, Troy Lee Designs, Skat Trak