Moreno Valley, CA (10/12/2017) - BDR Motorsports' Larry Heidler finished out the 2017 WORCS Series SXS season already looking toward 2018. After making significant progress during his rookie season, he announced the Polaris would provide him factory support in 2018.
Heidler took on the rough, rutted and deep sand course during the season finale at Adelanto Stadium. Though he had issues with the setup, he put in a hard charge and finished 12th in the Pro class, earning an eighth-place finish in final points.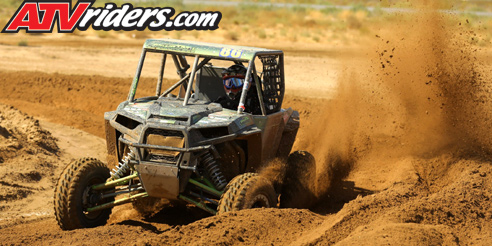 Raceline Wheels' Larry Heidler finished out the 2017 WORCS Season 8th in the Pro SXS Class Points Championship
"Today was tough and that track was brutal," explained Heidler. "I did some suspension adjustments and I definitely went the wrong way. Fox is definitely on my program for next year. They have the best in the business. I just made the wrong adjustments."
Heidler said his GBC Tires combined with Raceline Wheels and Super ATV Axles made for a great combination here, as well as all season. Tires were key during the weekend, as the deep sand whoops made it tough to move forward in the field.
"I ran 28-inch GBC Mongrels and they hooked up great," said Heidler. "My tires are grooved and they worked great. Between GBC, Fox and my Raceline wheels, it's a perfect combination. The Super ATV axles were durable all season. I haven't broken one axle this year."
GBC Motorsports' Larry Heidler
Heidler leaves the 2017 tour hungry for more. He'll get an additional boost for next year as Polaris is providing him with a brand new 2018 RZR. He will send the car to Holz Performance Products to prepare it for racing.
"I didn't finish the way I wanted to, but next year is going to be different," said Heidler. "I learned a lot this year and I'm super excited to have Polaris on board. They have the best car out there and everyone is winning in it. We'll run Holz products next year because they have the best in the business. All of the top champions use Holz. He races what he sells and sells what he races."
Heidler will return to WORCS competition in 2018. The season kicks off February 2-4 at The Orleans in Las Vegas.
Larry Heidler 2017 Sponsors:
BDR Motorsports, GBC Motorsports, Super ATV, AVI Wraps Raceline Wheels, FOX Shocks, Maxima Oils, DASA Racing, Hess Motorsports, Beard Seats, Tire blocks, Factory UTV, R3 Fabrication, Malcolm Smith, Troy Lee Designs, Skat Trak