Saint Croix Falls, WI (7/18/2017) – Bikeman Performance/rOtation Motorsports Jason Luburgh turned in a competitive performance during the TORC Off Road Championship UTV races at Bark River International Raceway in Michigan. Luburgh led the Bikeman team, winning the pole for Saturday's race and turning in two top-five finishes in Pro Modified.
Luburgh started off the weekend by turning in the fastest time in qualifying for Saturday's Pro Modified race. After starting on the pole, Luburgh took the holeshot and then dueled with the eventual winner for the lead on the first lap. Roost took its toll and a plugged intercooler slowed his charge to fifth at the checkered flag,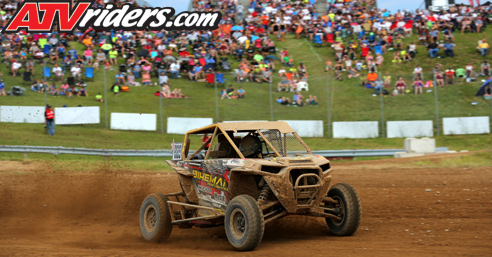 Polaris RZR's Jason Luburgh kicked off the weekend with a 4th place finish in the Pro Mod UTV class at Bark River
"The turbo car was really working well," said Luburgh. "I knew I could do it. We just had to prove it to ourselves. He pulled a move and got around me in the cushion. I got back past him and then he passed me again and was killing me with mud. The intercooler got plugged up with mud and the car started getting hot. We're making progress."
Luburgh broke an axle in Sunday's qualifying session. After starting 14th in the race, he was hit by another competitor on the first lap and tipped over. He righted his Polaris and quickly made up ground to finish fourth just ahead of his Bikeman teammate Drew Schultz.
GBC's Jason Luburgh followed it up with another 4th place finish on Sunday
"I got flipped on the first lap and luckily I was able to get back up by sawing the steering wheel," said Luburgh. "I was kind of angry at that point, and just wanted to make up ground. Everything started clicking and I started to find some lines. I got up to the lead pack and made a run at third at the end of the race."
Bikeman has had a difficult season. Between bad luck and difficulties with car setup, the team has soldiered on, innovating and making changes both at the shop and at the track. Luburgh's results are starting to show that hard work is paying off.
"There are 50 things we did since last night and it all paid off," said Luburgh. "We've had a rough season, but the tracks are nice. The officials have definitely listened to us. TORC is a great series and everyone is really happy."
The Bikeman Performance/rOtation Motorsports team will be ready to roll when it heads to the next TORC event at Redbud MX in Buchanan, MI August 12-13.
Thank you to the Bikeman Performance / rOtation Motorsports Sponsors:
Polaris Industriesj, Crash Addict Industries, Mystik Lubricants, Kicker Audio, GBC Motorsports, DWT Racing Wheels, Rugged Radios, Fly Racing, Lonestar Racing, Blown Concepts, Hess Motorsports, Wicked Bilt, Demon Powersports, Bully Dog