Saint Croix Falls, WI (9/8/2017) – Bikeman Performance / rOtation Motorsports driver Jason Luburgh fought his way through the field and won the Crandon World Cup Pro Stock UTV race at Crandon International Off-Road Raceway in Wisconsin. The Zanesville, OH driver pocketed a $5,000 check for the hard-fought victory.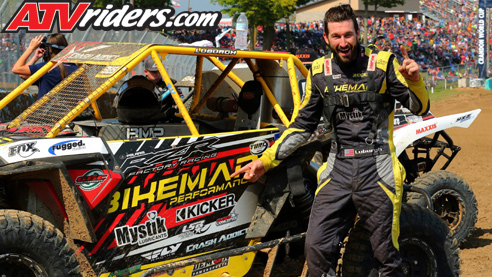 Bikeman Performance / rOtation Motorsports driver Jason Luburgh claimed the Crandon World Cup Pro Stock UTV class win on Sunday
Luburgh sat out Saturday's TORC race at Crandon, focusing all of his efforts on the Sunday events. It worked. After some last-minute clutching changes and running 30-inch GBC Tires, Luburgh quickly moved into the top five after the land rush start. He took second on lap five after a hard charging battle.
On lap seven of the 12-lap event, he came out of a physical three-car battle with the lead. He held off several hard charges during the final laps to notch the victory.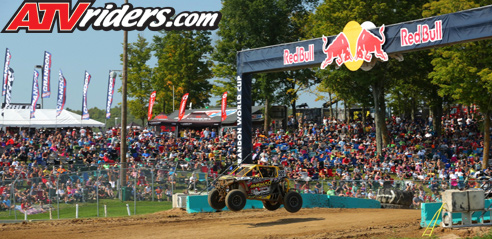 GBC's Jason Luburgh pulled away from the pack on Sunday
"We've really struggled in the stock class this year, so we've just been playing with stuff," explained Luburgh. "We relaxed a little and started really thinking outside the box. We ran 30-inch GBC Tires today, which I've never done before. We used it to gain a little more top end and it worked. The change that Jimmy made to the clutching was perfect for the way the track developed today. It was a nice track and he nailed it. It was a battle. There was a lot of bumping and grinding, but we all had fun."
GBC Tires, Fox Shocks and a perfectly prepared Polaris RZR were the key to his victory. The competition was extremely even, making for an exciting race, but also made the victory that much sweeter.
"The GBC Tires really helped the car this weekend," said Luburgh. "Tires a huge deal in this game so if you can really hit your setup well, these are the kind of results you get. The Fox Shocks were great. Really everything on the car worked great."
Jimmy Krantz hit the setup perfectly for the track. A tacky racing line and a lighter cushion made for a much more competitive race. "We made a last-minute change to the clutching that was pretty much a night-and-day difference," said Krantz.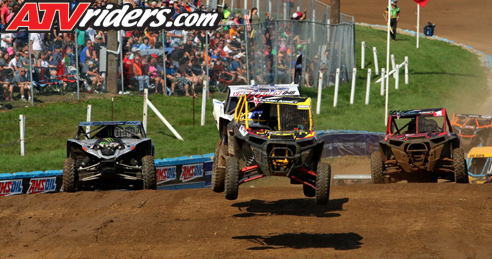 GBC's Jason Luburgh followed up his Pro Stock UTV Win with the Holeshot in the Pro Mod UTV class
Luburgh demonstrated that acceleration in the Pro Modified race, contested immediately following his Pro Stock victory. Luburgh snagged a huge holeshot at the start and looked well on his way to a sweep. Unfortunately, a full-course caution caused the car to experience heating issues and he fell off about halfway through the race.
"That's the class I was really gunning for this weekend," said Luburgh. "I know the track better from the stock race and I wanted to win. I pulled the holeshot and felt like I had a good lead. I was comfortable, but that heat issue took me out of the game."
Track officials believe it was the largest crowd in the event's history. Luburgh was pumped to put on a spectacular show for the 60,000-plus fans.
"The crowd is amazing," said Luburgh. "This fall Crandon crowd was definitely the biggest one I've seen. Everyone is so into racing and it's nice to see so many like-minded off-road people in one spot."
Luburgh's teammate Treavis Poynter also looked strong at the start of Saturday's TORC Pro Modified race. He took a massive holeshot at the start of the race before mechanical problem took him out of contention.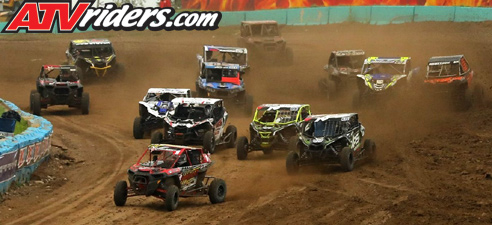 Bikeman Performance's Treavis Poynter grabbed the Pro Mod UTV Holeshot on Saturday
Colten Moore, still unable to drive do to his spinal fusion which is still healing, allowed his Rockstar Energy teammate, RJ Anderson, to hop behind the wheel. RJ came from mid pack to pull off an impressive 4th place finish.
"I ran into some of the Bikeman crew Saturday morning and they joked that they had an extra RZR," said Anderson. "They ended up putting one together for me from their parts car. I qualified seventh in my group the first time I drove it and it the car was really fast. I started outside front row and I didn't get the best start. I slowly started picking them off. A couple of guys crashed and a couple of them broke. The next thing I knew I was sitting in fourth place."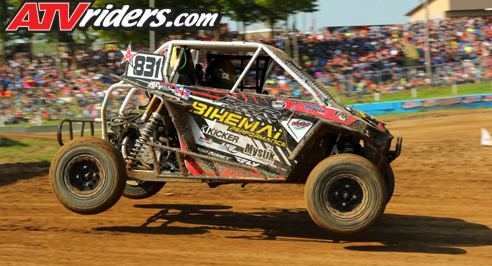 RJ Anderson finished an impressive 4th place on Sunday in the Pro Mod UTV class
Anderson remarked at the team's professionalism at being able to assemble a competitive car in such a short time. "The guys at Bikeman are awesome," said Anderson. "I started talking with Treavis and Jason about racing and Jimmy said to go for it. I think it's really cool for them to trust me to drive their car."
The Bikeman team is looking to finish out the season strong as the TORC Series next heads to ERX Motor Park in Elk River, MN. The triple header season finale is scheduled for September 22-24 at the purpose-built off-road track.
Thank you to the Bikeman Performance / rOtation Motorsports Sponsors:
Polaris Industriesj, Crash Addict Industries, Mystik Lubricants, Kicker Audio, GBC Motorsports, DWT Racing Wheels, Rugged Radios, Fly Racing, Lonestar Racing, Blown Concepts, Hess Motorsports, Wicked Bilt, Demon Powersports, Bully Dog