Cedar City, UT (1/21/2017) - Skyler and Stockton Bulloch kicked off the 2017 SXS racing season with their father Ray at the Parker 250 Best in the Desert race in Arizona. Skyler and Stockton won their classes, while clutching issues sidelined Ray Bulloch while leading the Pro Production race.
"It was a good weekend," said Ray Bulloch "We had D&P Performance and Arctic Cat helping with Skyler's car. We got it running very well. He took eighth overall and won the 800 Class. That really built up his confidence. He won the last race of 2017 in WORCS and he got another win to start off this year."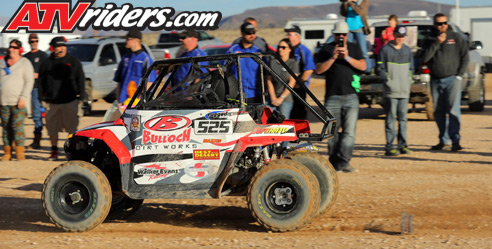 Stockton Bulloch got off to the early lead in the Youth 250 class & he went on to claim the overall win
Stockton's SXS benefitted from his dad's new factory deal with Maxxis Tires. Hard work in the off-season paid off with another Bulloch victory.
"Stockton really dominated that youth race," said Bulloch. "We spent a lot of time with gearing and tires on that little 170. The Maxxis Tires hooked up well, Stockton took the early lead and never looked back. Maxxis spent a lot of time with us testing different tires and sizes Our mechanic spent countless hours on the carburetor and he nailed it for this race. Our hopes are that both kids will be more competitive this year.
"Maxxis came onboard with both the SXS and the Pro Lite Truck," added Bulloch. "We're doing some testing for them and they are great tires. We've been running Maxxis for years so now to step up and be a factory Maxxis Team gives a huge advantage. Mike Farmer got us hooked up with this factory deal and we're certain good things will come as part of that."
As for Ray Bulloch's shortened race, he was happy with the data they were able to get and the chance to shakedown his Polaris RZR. He said he'll be ready for a consistent season in the WORCS Championship.
"We also spent some time testing on my car and we definitely found some things," said Bulloch. "We had a minute-and-a-half lead on the second lap. We had an issue with the primary clutch and that cost me the win. We did come away with some good information. SLP came on this year to help us with our clutching. We're going to work with them to make sure we don't have any other issues. We're coming into WORCS to be more competitive. We want more consistency so we can come away with a championship."
D&P Performance's Dean Bulloch and Arctic Cat have stepped up with assistance on Skyler's SXS. Ray Bulloch is focused on his kids' success this season.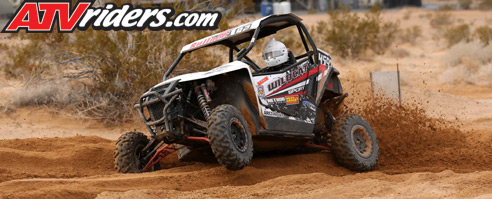 Skyler Bulloch secured first place in his Arctic Cat Wild Cat Sport 700
"Dean Bulloch is helping us with parts and technical assistance for Skyler's car," said Ray Bulloch. "The future is there with these kids. We actually turned down some offers to run in other series because WORCS is so family oriented. I'm not here for myself…I'm here for my family. These kids are the future of our sport."
The Bulloch family will hard at work at each WORCS race this season. Ray Bulloch will be racing in SXS Pro Production and Pro Stock. Skyler Bulloch will compete in SXS 700 and the 125B Class Motorcycle. Stockton will run in the SXS 250 Production Class, as well as 85B Motorcycle.
"We have some busy weekends ahead of us," said Ray Bulloch. "We're also looking at some other events, including the Lucas Oil, BITD and DIRT Series, as well as possibly RMURA."
The Bulloch clan will be ready for action as WORCS SXS racing kicks off January 20-22 with the SXS World Finals in Primm, NV.
2017 Bulloch Race Team Sponsors:
Maxxis, Arctic Cat, Super ATV, Walker Evans Racing, Polaris, HCR Racing, Triple S Polaris, Bulloch Dirt Works, Lucas Oil, Tire Blocks, DW Performance, SLP Racing, D&P Performance, ATVriders.com