Cedar City, UT (4/19/2017) - Maxxis/Super ATV's Ray Bulloch won the Production class short course race during the UTV World Championship in Laughlin, NV. Bulloch celebrated his 15th wedding anniversary with the victory in round three of the Best in the Desert Series in his Polaris RZR. Bulloch's son Skyler won the 700/800 class in his Arctic Cat.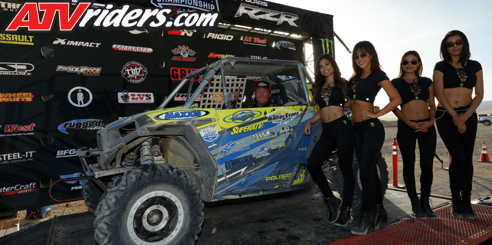 Ray Bulloch Won the Short Course Production 1000 Class at the BITD UTV World Championship
The event featured the largest turnout of UTVs in BITD history, with over 300 entries. The three-lap short course race was run on the 16-mile long course in order to make room for the record number of entries. Despite rough track conditions and lack of visibility, Bulloch dominated in the race.
"We came out here and threw down with the best guys in the world," said Bulloch. "We've been coming out here for a couple of years now and it's nice to get some good results."
Bulloch also overcame a blown belt early in the contest, and drove a perfect race in his RZR. He thanked his wife, with whom he celebrated 15 years of marriage the Thursday before the event.

Ray Bulloch grabbed the Holeshot
"We never got a flat; the Maxxis Tires and Tireblocks were the right combination," said Bulloch. "Running with those turbo guys definitely gets challenging. I had to lean on it hard and even with the blown belt, I got the win. I have to thank HCR. Their arms are amazing. My Walker Evans shocks worked awesome. SLP clutching kept us up front. I have to thank my wife, Jody. It was our 15th wedding anniversary on Thursday, and we only talked for like five minutes that day."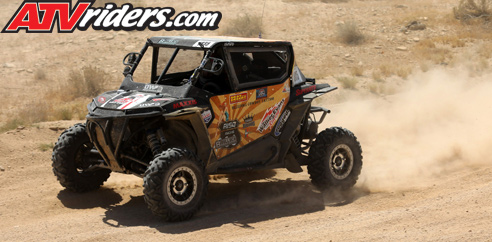 Ray Bulloch also raced in the BITD Desert UTV Race
Bulloch's son Skyler celebrated, too, after winning the 700/800 Class short course race. The younger Bulloch took the holeshot on the dead engine start and led every lap of the race.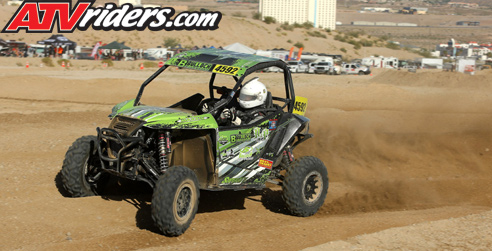 Skyler Bulloch secured first place in his Arctic Cat Wild Cat Sport 700
"It was a dead start, which I wasn't ready for, but I took the holeshot and led the whole race," said Skyler Bulloch. "I don't have a mirror in my car so I can't look back so I just went as hard as I could. The course was crazy. Half the time I couldn't see and the ruts got so deep. I am so excited for this win because this is the World Championship."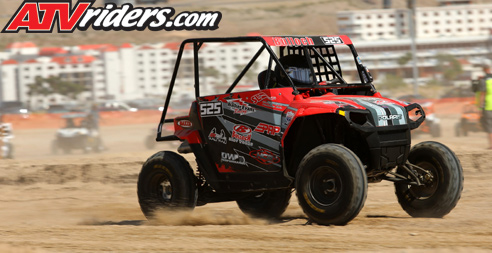 Stockton Bulloch
The Bulloch family has a quick turnaround as they head for the next WORCS race April 21-23. That event is being held at Sand Hollow State Park in Hurricane, UT.
2017 Bulloch Race Team Sponsors:
Maxxis, Arctic Cat, Super ATV, Walker Evans Racing, Polaris, HCR Racing, Triple S Polaris, Bulloch Dirt Works, Lucas Oil, Tire Blocks, DW Performance, SLP Racing, D&P Performance, ATVriders.com