Cedar City, UT (1/27/2017) - Maxxis / Super ATV's Ray Bulloch again had the car to beat in SXS Pro Stock as he finished second overall in the WORCS SXS World Finals in Primm, NV. Bulloch's sons Skyler and Stockton each took class wins, and Stockton won the Youth 250 overall.
The entire Bulloch Famly took home some metal from SXS World Finals
The opening rounds of the WORCS Series was run as a special doubleheader event with a short course race on Saturday and traditional off road racing on Sunday. Overall finish was determined from both races. Weather played havoc with the event. Friday's qualifying was rained out and starting positions were set by a random draw. Saturday's race was run under blue skies with warm temperatures. Winter weather returned on Sunday with sleet, rain and frigid temperatures.
Bulloch took the lead early in Saturday's race and was untouchable. In Sunday's race Bulloch was hit by a competitors while leading. Though the resulting crash tore an A-arm out of his Polaris RZR, he held on to finish sixth.

Maxxis' Ray Bulloch charged his way to the victory on Saturday in the Pro Stock UTV Class
"Saturday was awesome," said Bulloch. "We got out front early and never looked back. In the second race, I was on the inside in some mud and I got hit really hard from both the side and from behind. Even with the lower A-arm ripped out of the frame, I was able to drive pretty well. I got some good speed on the last two laps."
Bulloch starts 2017 second in Pro Stock points. After a breakout season last year, Bulloch has one goal this year: win the Pro Stock championship.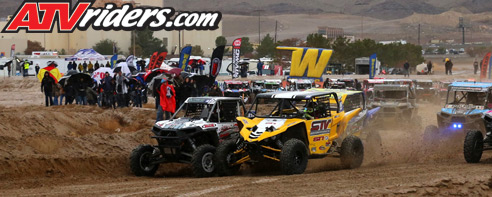 Super ATV's Ray Bulloch grabbed the Holeshot on Sunday in Pro Stock, but an early race collision dropped him back to 2nd Overall for the weekend
"We're going for a championship this year so to go out there with a broken A-arm and finish second overall in Pro Stock, I'm pretty happy in the end," said Bulloch. "Racing has ups and downs, but we know how to run out front and we want to do that all year."
WORCS is a family sport and the Bulloch family is all in. Ray Bulloch's sons Stockton and Skyler both recorded victories during the weekend. Skyler Bulloch finished second overall in the SXS Youth 800 Production after finishing third in the short course race and first in Sunday's event.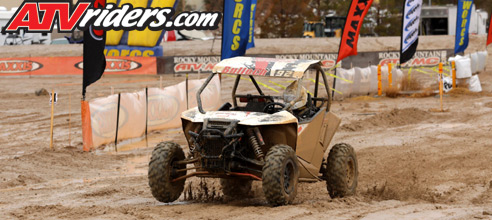 Skyler charged his way to victory on Sunday in the Youth 800 UTV class after finishing 3rd in the short course race Satruday for 2nd Overall
Stockton Bulloch won the overall in the SXS Youth 250 Production race with a third on Saturday and a first on Sunday.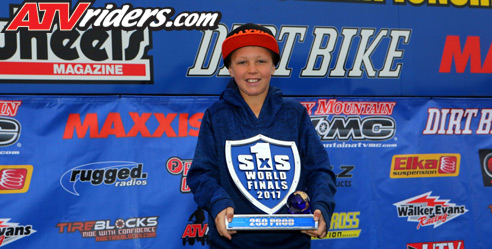 Stockton Bulloch took home Overall Win in the Youth 250 UTV Class with the class win on Sunday to go with his 3rd on Saturday
For the elder Bulloch, family is what this sport is all about. He said it best a few weeks ago when the family was competing in a Best in the Desert Race.
"The future is there with these kids," said Ray Bulloch. "We actually turned down some offers to run in other series because WORCS is so family oriented. I'm not here for myself…I'm here for my family. These kids are the future of our sport."
The Bulloch family will be back on track, and in the front of their respective classes, when the WORCS series heads to Honolulu Hills Raceway in Taft, CA February 17-19.
2017 Bulloch Race Team Sponsors:
Maxxis, Arctic Cat, Super ATV, Walker Evans Racing, Polaris, HCR Racing, Triple S Polaris, Bulloch Dirt Works, Lucas Oil, Tire Blocks, DW Performance, SLP Racing, D&P Performance, ATVriders.com