Cedar City, UT (4/5/2017) - Maxxis' Ray Bulloch got back to the front of the pack, winning the WORCS SXS Pro Stock race at The Orleans Casino in Las Vegas, NV. His second victory of the year extended is lead in the championship to 19 points.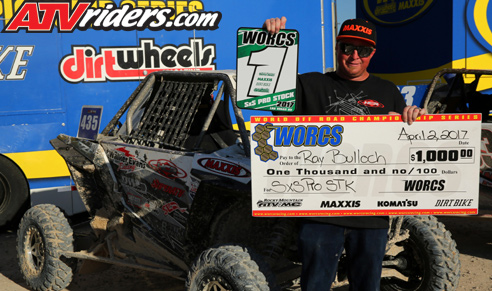 Maxxis' Ray Bulloch Scores Pro Stock SxS Win in Las Vegas WORCS
The short course track was distinctive on the WORCS tour. It was staged in the arena and the parking lots surrounding the venue. It featured a mix of hard-packed dirt and pavement in the parking lots, combined with a log section, a sand pit and big air double inside the arena.
Bulloch, who had difficulties in the Pro race, bounced back in the Pro Stock event. Carnage struck on the very first lap. Emerging from a four-car battle for the lead, Bulloch cruised to victory. In the process, he set the fastest lap of the weekend for a SXS.
"We had a disappointing race in Pro, so my mechanic Rusty went the extra mile and he nailed the setup for Pro Stock," said Bulloch. "The race check goes to Rusty this weekend. It was a gnarly race. This course had everything and we pulled it off."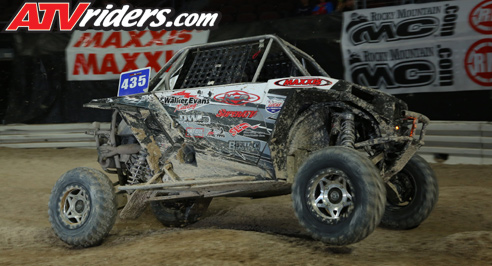 Ray Bulloch switch to Maxxis Ceros Tires on a Sunday proved to be the right decision with him taking the ealry lead
Bulloch had to make a 400-mile round trip to Cedar City and back after the Pro race to deal with some family business. He came back with a new set of tires and new perspective that paid off in the Pro Stock event. Just the fact his car survived the hardcore racing on the first lap was a testament to his setup.
"When I went home, I got the Maxxis Ceros Tires that we use in the Lucas Oil series," said Bulloch. "Those HCR arms worked awesome. I saw cars everywhere, and we got through it."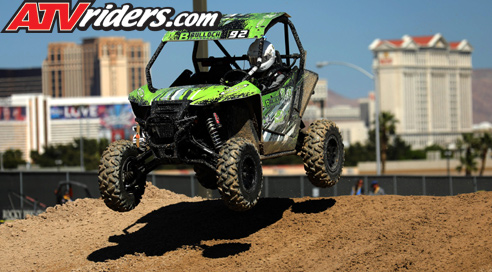 Skyler Bulloch finished on the Podium in the SXS Youth 800 Production
Racing is a family sport for the Bullochs and Ray's two sons Skyler and Stockton were carrying the Bulloch banner high in their races. Skyler Bulloch finished third in both the Sportsman Motorcycle on his new Kawasaki, and SXS Youth 800 Production events in his Arctic Cat. Stockton Bulloch also finished third in SXS Youth 250 Production.
Stockton Bulloch Scored a Podium in the SXS Youth 250 Production
The Bulloch family will return to their home state for the next race April 21-23. That event is being held at Sand Hollow State Park in Hurricane, UT. Bulloch will be making a big sponsorship announcement soon.
2017 Bulloch Race Team Sponsors:
Maxxis, Arctic Cat, Super ATV, Walker Evans Racing, Polaris, HCR Racing, Triple S Polaris, Bulloch Dirt Works, Lucas Oil, Tire Blocks, DW Performance, SLP Racing, D&P Performance, ATVriders.com