Cedar City, UT (4/26/2017) - Maxxis/Super ATV's Ray Bulloch won his second-straight WORCS Pro Stock SXS race during the seventh round of competition at Sand Hollow State Park in St. George, UT. Bulloch, who also finished fourth in the Pro SXS race, padded his lead in the Pro Stock championship to 26 points.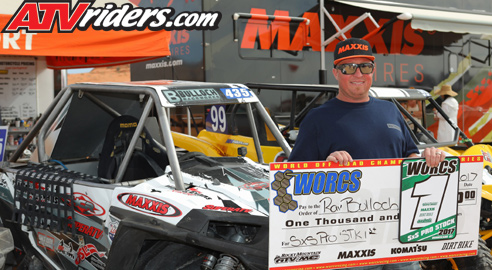 Maxxis' Ray Bulloch Scores his second straight Pro Stock SxS Win at the Sand Hollow WORCS, which extends his lead to 26 points over 2nd place
Bulloch took the lead on the first lap of the Pro Stock race and never looked back. Despite traditionally rough conditions, he dominated the race to earn his third victory of the year.
"I've never finished here without breaking, so it's nice that we got the Sand Hollow monkey off our back," said Bulloch. "I ran a solid race until the final lap. I lost a tire, but thank God I had the Tireblocks and I came out with the win. The Pro Stock Class is all about driving and every little thing counts. My mechanic Rusty spent countless hours going over the car. It's been a tight schedule this spring."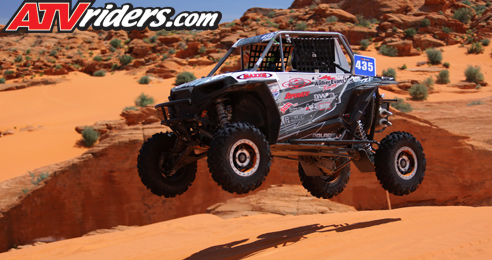 Tireblocks' Ray Bulloch recorded the fastest lap time of the race in lap two, which was over 8 seconds faster than his closest competitor
Sand Hollow is known for its rough and deep sand whoops. That deep sand hides sharp rocks, adding a further challenge to the car's suspension system. Bulloch's Walker Evans shocks were more than up to the challenge.
"I pushed it and it was a gnarly track," said Bulloch. "That rough stuff out there and the way my suspension worked, my Walker Evans suspension allowed me to push it harder."
In the Pro race, Bulloch was tangled up with another competitor at the start. After surviving the impact, he rebounded to finish fourth after losing the third spot on the final lap due to front differential issues. Bulloch was driving a new Polaris non-turbo.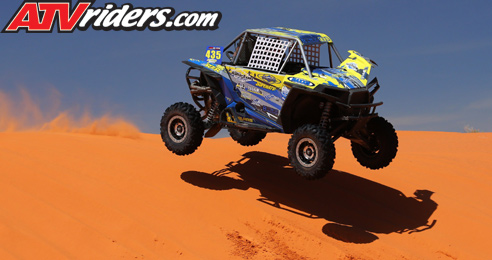 HCR's Ray Bulloch finished 4th in the WORCS Pro SXS Race & he is currently 8th place in the points championship
"The second turn after the start, I had a little contact and thank God I hung on," said Bulloch. "There was definitely some banging and carnage. I knew we would have nothing for these turbo guys at this track, so I was hoping that they would break. This was definitely the most gnarly track I've seen in WORCS. It was short and every lap it changed."
Six races into the season, Bulloch's outlook is positive. He heads into his home town race next month with the lead in Pro Stock and outside shot in the Pro title chase.
"We've had some ups and downs the last few weeks," said Bulloch. "We got a win at the UTV World Championship. We got a win here. We're definitely up in the points in Pro Stock. In Pro Production, we flat out just have go for it."
Bulloch's son Skyler finished second in the SXS 800 Production race. After scoring his fourth podium this season, including two wins, Skyler Bulloch is now second in points just five points out of the lead in his Arctic Cat.
Skyler Bulloch claimed the 2nd Spot on the Podium in the SXS Youth 800 Production, which moves him within 5 points of the leader
"There were so many drop offs on the first lap, I thought I was going to break my car several times," said Skyler Bulloch. "I had a good minute or two on third and I ran a really good race. My Maxxis Tires with Tireblocks held up really great in the rocks. DNP Performance and our mechanic Rusty did a lot of work on my car and it paid off."
Stockton Bulloch finished 4th in the SXS Youth 250 Production after he got stuck on a berm, which dropped him out of 3rd place
Stockton Bulloch finished fourth in the SXS Youth 250 Production class, which has him holding onto the second spot in the points championship.
The Bulloch family heads to their hometown track for the next round of WORCS competition. That race is scheduled for May 19-21 at Iron Mine Racepark in Cedar City, UT.
2017 Bulloch Race Team Sponsors:
Maxxis, Arctic Cat, Super ATV, Walker Evans Racing, Polaris, HCR Racing, Triple S Polaris, Bulloch Dirt Works, Lucas Oil, Tire Blocks, DW Performance, SLP Racing, D&P Performance, ATVriders.com