Cedar City, UT (10/12/2017) - Maxxis/Super ATV's Ray Bulloch overcame bad luck experienced in the last three races and finished third in the WORCS SXS Pro Stock season finale at Adelanto Stadium in California. Skyler Bulloch scored the SXS 800 class win.
The Bulloch family, with Ray's sons Skyler and Stockton and his daughter Berkley, took on the tough course set up in and around the converted baseball stadium. The track featured deep sand, ruts and jumps. The Ray was happy to come out of three-car battle with the podium, despite a mechanical issue at the end.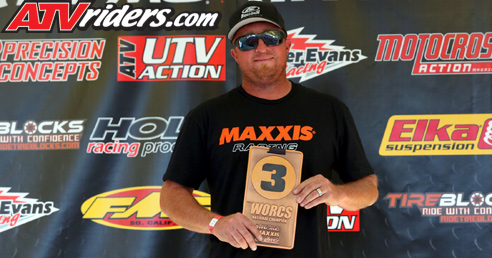 Ray Bulloch finished third in the Pro Stock SXS Championship
"It was definitely an intense race," said Ray Bulloch. "Bradbury came up inside me, we locked wheels and I almost went off the track. I broke something, but I still pulled off a third-place finish so I'm thankful for that."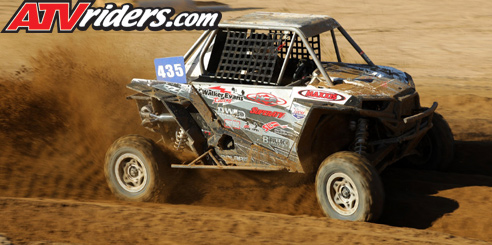 Maxxis' Ray Bulloch finished third at Adelanto WORCS
Bulloch thanked for all the sponsors that backed his family's race team this season. To run competitively, Bulloch used the best components on his Polaris RZR this season.
"Throughout the day, my Walker Evans shocks worked great and my Maxxis Tires hooked up," said Bulloch. "My SLP clutching was on point and the DW Performance tuned engine put down a bunch of power. We just had a little bad luck there at the end, but that's racing. We'll be back next year and we're looking forward to some big things."
D&P Performance's Skyler Bulloch finished 2nd in the SXS 800 Youth Points Championship
Skyler Bulloch drove his Arctic Cat/Textron to his fourth victory of the season in the SXS 800 Production class. The win handed him second in points as he looks forward to stepping up to a full-size SXS next season. Skyler finished on the podium eight times this season in 10 races.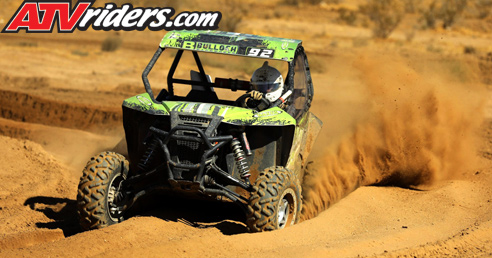 Maxxis' Skyler Bulloch Won the SXS Youth 800 WORCS season finale
"My Maxxis Tires hooked up great in the sand and I just pulled away from him," said Skyler Bulloch. "We ended on a good note. I'm definitely racing the 1000 next year, either a new RZR or my dad's Pro Stock car. We had our ups and downs this year, but I was top three every time my car didn't break."
Stockton Bulloch finished third in the SXS Youth 250 Production race, earning his sixth podium of the season. He won one race. He'll step into the 800 class next season.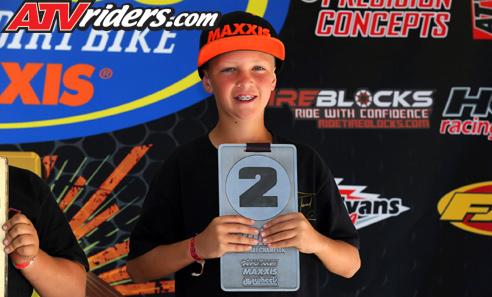 Stockton Bulloch finished 2nd in the Youth 250 SXS Class
"It was a fun year," said Stockton Bulloch. We got second in the championship. Next year we'll be running the 800 class which will be a lot more fun."
For Bulloch, winning races and being competitive is great, but racing is really about enjoying time with his family. His daughter Berkley joined the family this year.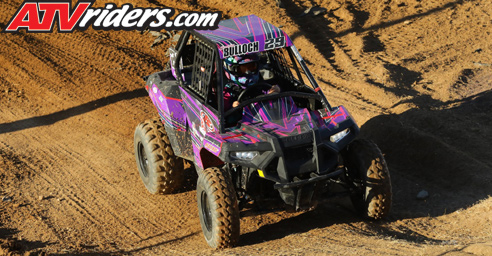 Union Graphic's Berkley Bulloch
"The biggest accomplishment of the year was watching my boys progress and get through the race season," said Ray Bulloch. "Both of them are moving up to bigger cars and that's the great thing about WORCS racing and the great support we have from our sponsors: Rocky Mountain ATV, Arctic Cat, Maxxis Tires, just everyone that helps us out to come out here and do what we love. Berkeley is new out there. I haven't been pushing her and I'm just letting her got out there and have fun. That's what this is all about: the family out there having fun. We all want to win, but if we're not having fun we're not going to come do it."
The Bulloch family will return to WORCS competition next season at the season opener February 2-4 at The Orleans in Las Vegas.
2017 Bulloch Race Team Sponsors:
Maxxis, Arctic Cat, Rocky Mountain ATV MC, Super ATV, Walker Evans Racing, Polaris, HCR Racing, Triple S Polaris, Bulloch Dirt Works, Lucas Oil, Tire Blocks, DW Performance, SLP Racing, D&P Performance, Union Graphics, RISQ, ATVriders.com