Can-Am Apache Backcountry Track System Unveiled


New Apache Track Kit Offers a Fresh Approach to Winter Explorations
Valcourt, Quebec (2/17/2017) - Deep backcountry snow and challenging winter conditions have sometimes lead to more cumbersome results with tracked ATV. The all-new Apache Backcountry Track System, from Can-Am accessories, has forever transformed ATV operation in harsh winter environments and deep snow. With its unprecedented, unparalleled and unbelievable engineering and performance, the new track kit offers a fresh approach to winter exploration, allowing Can-Am ATV owners to answer the call of the wild.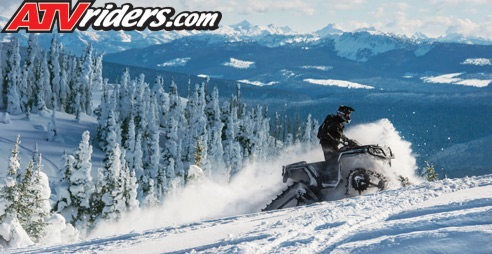 Can-Am has transformed ATV operation with their Apache Backcountry Track System
Apache Backcountry Track System
• Largest contact patch
• Infused snowmobile technology / efficient design
• High ground clearance in deep snow
• Enhanced handling properties

The Apache Backcountry Track System combines snowmobile technology with the Apache 360 Track System's trademark execution, delivering the highest ground clearance, most floatation and best deep-snow performance of any track kit.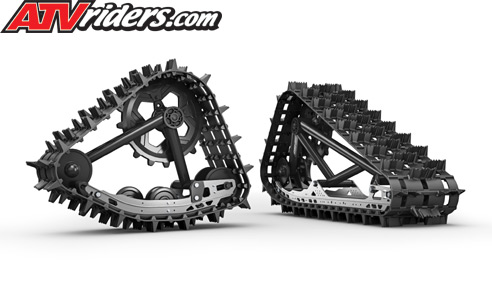 Can-Am's Apache Backcountry kit delivers the best deep-snow performance of its kind
Unprecedented Innovation
The aggressive track includes 2-inch lugs for superior traction. When combined with the industry's largest contact patch, create by a 13.5-inch front track and 14-inch rear track, the Apache Backcountry Track System supplies maximum floatation and nearly continuous pull in deep snow.
Unparalleled Performance
The lightweight, efficient and highly durable frame and rail configuration ensures the weight is spread evenly on snow for enhanced traction, remarkable acceleration and perfected handling. Superior control when turning, braking and side-hilling means Can-Am ATV owners can confidently climb higher, get deeper and even go off the beaten path during their winter off-road adventures.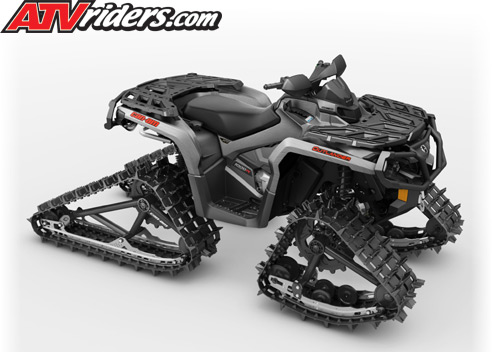 Can-Am's innovative design and proven performance enhance any off-road experience.
Unbelievable Experience
The Apache Backcountry Track System's has the ability to turn ordinary into incredible. Its innovative design and proven performance enhance an off-road experience. Also, easy installation and a quick-conversion setup lets owners conveniently decide upon their next wild adventure without long delays for tires-to-tracks conversions. That means there's more time for riding in the rough country and less time wrenching prior to taking the journey.
The track system requires the Apache 360 Backcountry Mounting Kit (sold separately), and is winter use only.
MSRP:
Apache Backcountry Track System: $5,349.99 US
Apache Backcountry Mounting Kit: $649.99 US
For more information, visit a local Can-Am dealer.
About Can-Am
BRP (TSX:DOO) is a global leader in the design, development, manufacturing, distribution and marketing of powersports vehicles and propulsion systems. Its portfolio includes Ski-Doo and Lynx snowmobiles, Sea-Doo watercraft, Can-Am all-terrain and side-by-side vehicles, Can-Am Spyder roadsters, Evinrude and Rotax marine propulsion systems as well as Rotax engines for karts, motorcycles and recreational aircraft. BRP supports its line of products with a dedicated parts, accessories and clothing business. With annual sales of over CA $3.8 billion from over 100 countries, the Company employs approximately 7,900 people worldwide.
www.brp.com @BRPnews Ski-Doo, Lynx, Sea-Doo, Evinrude, Rotax, Can-Am, Spyder, Maverick, Defender, Renegade, Commander and the BRP logo are trademarks of Bombardier Recreational Products Inc. or its affiliates. All other trademarks are the property of their respective owners.