Can-Am Maverick Racers Go 1-2 at Camp Coker GNCC
Can-Am's Kyle Chaney Takes SXS Win, Bryan Buckhannon Wins Pro 4x4
Valcourt, Quebec (4/25/2017) - Can-Am racers Kyle Chaney and Hunter Miller finished 1-2 in the XC1 Pro UTV class at the Camp Coker Grand National Cross Country Race in Society Hills, S.C. Multi-time GNCC champion Bryan Buckhannon notched his first victory of the season in the Pro 4x4 class. The Camp Coker event hosted both round five of GNCC ATV series and the second round of action for side-by-side vehicles.
Can-Am SxS Racing
Kyle Chaney (Chaney Racing / Can-Am) took top honors, winning both the UTV overall and XC1 Pro UTV class, at the Camp Coker GNCC race in South Carolina. Chaney, who finished third at round one, put in a dominating performance, as he led every lap with his Can-Am Maverick X xc 1000R side-by-side vehicle. The two-time GNCC XC1 Pro UTV champion was third off the line, but quickly found his way to the front on the dusty course. Once in the lead, Chaney checked out and won by 47 seconds. Chaney, who has tallied three wins a season in his Can-Am vehicle since 2014, is off to his best start ever and currently leads the XC1 Pro UTV class in points headed to round three.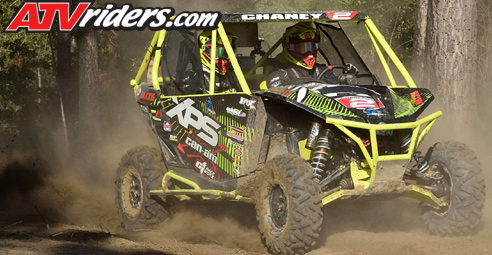 Kyle Chaney drove his Can-Am Maverick X xc 1000R
to UTV overall and XC1 Pro UTV class victory at the Camp Coker GNCC in South Carolina to take over the class points lead
Hunter Miller (Miller Brothers Racing / Can-Am) finished in the runner-up spot behind Chaney, giving Can-Am a 1-2 finish in the XC1 Pro UTV ranks. He climbed to third place in the class point rankings. Can-Am Maverick side-by-side vehicle racers have now won 17 of the last 18 XC1 class races dating back to round three of 2014.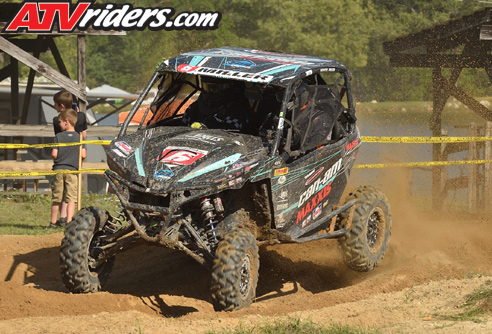 Hunter Miller finished one spot behind Chaney to give Can-Am Maverick side-by-side vehicle racers a 1-2 finish at the Camp Coker GNCC
Led by Derron Oakley's class victory, Can-Am Maverick side-by-side vehicle racers posted a podium sweep in the XC2 Pro Sport class in South Carolina. Oakley, who races under the Chaney Racing / Can-Am team, also departed Camp Coker with the class points lead.
GNCC veteran Mike Penland is now a perfect 2-for-2 this year in the GNCC Master (50+) UTV class victory after his win in South Carolina.
Can-Am side-by-side vehicle pilots return May 27-28, for the Wiseco John Penton GNCC in Millfield, Ohio.
Can-Am ATV racing
After missing round four of the GNCC series to compete in the extreme Hunt-The-Wolf ATV race in Romania, Factory Can-Am Outlander XT 1000 ATV racer Bryan Buckhannon returned to his roots and came a away a winner in South Carolina. His victory extended Can-Am 4x4 racers' current GNCC winning streak to 16 straight events, dating back to round three of last season.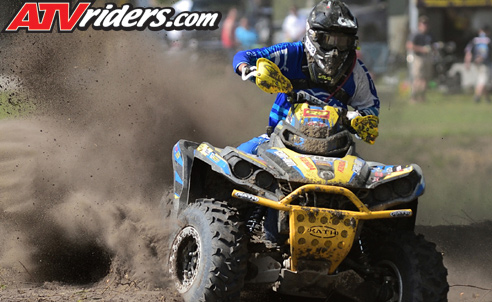 Bryan Buckhannon, an 8-time GNCC champion,
notched his first victory of 2017 with the 4x4 Pro class win at Camp Coker
Buckhannon (Can-Am/ DJR / QuadBoss) was in second place after the first lap, but took over the lead on lap two and never looked back. Buckhannon finished 40 seconds ahead of the runner-up finisher Rob Smith (BNR / Can-Am) to earn his first class win of 2017. Buckhannon, despite missing one round, is third overall in the 4x4 Pro class point rankings and has four podium finishes.
Reigning 4x4 Pro class champion Kevin Cunningham (Cunningham Racing / Can-Am) has won four of the first five races and currently has a 36-point lead over second place heading into round six of the GNCC ATV series. Can-Am ATV racer Doug Robey won the 4x4 A class as Can-Am pilots totaled 11 of 16 possible 4x4 podium finishes on the day.
The next GNCC ATV event for Can-Am racers is the X-Factor Whitetails, May 6-7, in Peru, Indiana.
About Can-Am
BRP (TSX:DOO) is a global leader in the design, development, manufacturing, distribution and marketing of powersports vehicles and propulsion systems. Its portfolio includes Ski-Doo and Lynx snowmobiles, Sea-Doo watercraft, Can-Am all-terrain and side-by-side vehicles, Can-Am Spyder roadsters, Evinrude and Rotax marine propulsion systems as well as Rotax engines for karts, motorcycles and recreational aircraft. BRP supports its line of products with a dedicated parts, accessories and clothing business. With annual sales of over CA $3.8 billion from over 100 countries, the Company employs approximately 7,900 people worldwide.
www.brp.com @BRPnews Ski-Doo, Lynx, Sea-Doo, Evinrude, Rotax, Can-Am, Spyder, Maverick, Defender, Renegade, Commander and the BRP logo are trademarks of Bombardier Recreational Products Inc. or its affiliates. All other trademarks are the property of their respective owners.