Nuevo, CA (2/23/2017) - Polaris' Cody Bradbury made the best of a difficult weekend during the WORCS SXS races at Honolulu Hills Raceway in Taft, CA. Despite a mechanical issue in the Pro SXS race that resulted in a 13th-place finish, he held on to second in points. Bradbury just missed the podium with a fourth place finish in the Pro Stock class.
Wild weather prior to the event, that included torrential rains brought on by Winter Storm Lucifer, made it a difficult weekend for setup. WORCS officials got the track ready, though Saturday's Pro race turned into a survival test as most of the top runners fell out with mechanical issues.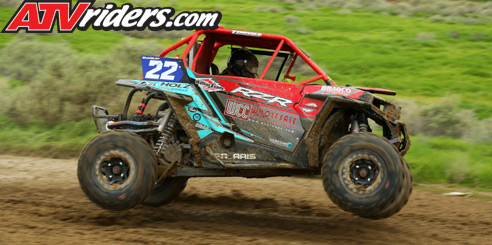 Cody Bradbury finished fourth place in Sunday's Pro SXS Stock Class
On the initial start, Bradbury was quickly up to third and moving forward before a belt problem slowed him. Due to an issue with course markings, WORCS waived off the initial start and staged a complete restart. Though Bradbury was able to change the belt on his RZR, pieces of the old belt caused an oil leak that ended his day early. He now sits second in the Pro title chase, just 12 points out of the lead.
"In the Pro race, I came out third, but the track was really one line on Saturday," said Bradbury. "We opened up a pretty good gap on fourth, then I lost a belt. The restart helped me because I was able to get the belt changed, but pieces of the old belt caused and oil seal to break and the oil drained out of the trans. I ended up 13th for the day. I did my best to finish and get some points."
In Sunday's Pro Stock SXS race, Bradbury ran in a pack of four that gained on the field every lap. Though he made a run at third on the final lap, he settled for fourth and now sits fifth in points.
"All four of us were only a few seconds apart for most of the race," said Bradbury. "I made a run on the last lap to try to get on the podium, but I got it onto two wheels and had to back off a little bit."
Bradbury is happy thus far with his season. He is now ready to take on some of the tracks he likes best on the WORCS calendar.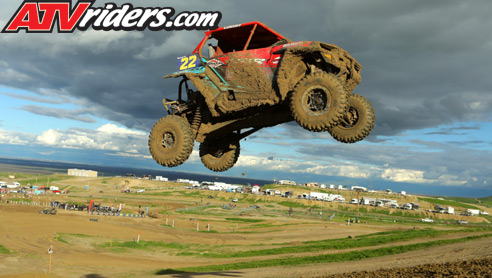 Polaris' Cody Bradbury holds on to second in points, despite a mechanical issue in the Pro SXS race that resulted in a 13th-place finish
"These weren't my favorite tracks, so coming out with points is my goal," said Bradbury. "I wanted to get through these first three rounds and still be in contention because the tracks coming up really suit my style."
Of course, getting there is a matter of using the best equipment. Bradbury relies on Walker Evans shocks and his Holz-built car to get him the most consistent results.
"The Walker Evans shocks, as always, performed flawlessly," said Bradbury. "I beat on my Pro Stock car on Sunday, and it proved that Holz cars hold up awesome. Both of them have been a big part of my program this year. Hopefully in these next few rounds, we can close the gap on some of these guys."
The first track on Bradbury's radar for narrowing that margin is Havasu, the next race on the tour. Bradbury likes the track's traditional tight and rough nature.
"I like racing Havasu," explained Bradbury. "A good start is key. It's rough, and I tend to do better on the rougher tracks. I'm looking forward to it. It's going to be rough. It's going to be tight. It's going to be a good one."
Bradbury will be in his element as WORCS heads to Lake Havasu City, AZ March 17-19.
2017 Cody Bradbury Sponsors:
Polaris Factory Racing, Wholesale Capital Corporation, Walker Evans Racing, Holz Racing Products, GBC Motorsports, Cross Motorsports, Team Bradco, DASA Racing, Gates, SDI, Grant Steering wheels, Magik Graphics, K&N Filters, Temecula Motorsports