Nuevo, CA (3/22/2017) - Polaris' Cody Bradbury finished fourth in both the SXS Pro and SXS Pro Stock WORCS Series races in Lake Havasu City, AZ. Bradbury led both races before finishing in the top five.
In the Pro UTV race, Bradbury took the lead on the circuit's lagoon jump. He held the lead for four laps before several lapped cars held him up and he fell to fourth at the checkered flag. He now sits second in the Pro UTV title chase, just 19 points out of the lead.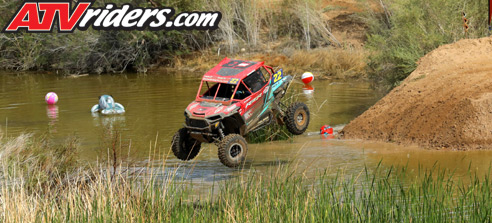 Cody Bradbury finished fourth in both Pro and Pro UTV Stock at the Lake Havasu WORCS
"I caught some lappers at the wrong time," explained Bradbury. "They decided to roll the lagoon jump, so I had to go around. I had a few issues—Havasu is always tight and starts are so important here—and it made it tough. I got some points and congratulations to my nephew Corbin Leaverton for finishing third. I got bogged down in the water and started sucking water into the intake and it would miss for a while. It was just one of those days. A fourth for the day is not horrible."
In Pro Stock, Bradbury dominated the race and set the fastest lap of the day at 5 minutes, 10 seconds. He led for the first five laps, but a mechanical issue sidelined him briefly. He recovered to finish fourth and now sits fourth in points.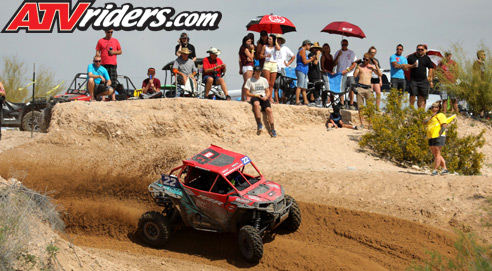 Polaris' Cody Bradbury dominated the Pro Stock UTV race and set the fastest lap of the day at 5 minutes, 10 seconds
"I was trying to past a lapper and a rock lodged in my shifter and put me into neutral," said Bradbury. "I thought I blew a belt, got out to change it and realized the problem. I hopped back in and came back to fourth. I really just wanted to get through these first few rounds and keep some points on the board. I don't get the best starts, but I pass pretty well. Once we get to some tracks where there is a little more room to pass, I'm sure I'll shine."
Leaverton started on the second row in the Pro race. Making up time quickly on the clear track, he recorded his first podium of the season.
"I had the lead at one point and fell back trying to keep my car together," said Leaverton. "I missed the first round and it's nice to be out here on the podium again. They did a minute between our starts and that really helped me out. I had a clear track to charge and try to catch the front row."
Bradbury will be back in action as the WORCS Series heads to The Orleans in Las Vegas March 31-April 2.
2017 Cody Bradbury Sponsors:
Polaris Factory Racing, Wholesale Capital Corporation, Walker Evans Racing, Holz Racing Products, GBC Motorsports, Cross Motorsports, Team Bradco, DASA Racing, Gates, SDI, Grant Steering wheels, Magik Graphics, K&N Filters, Temecula Motorsports