Nuevo, CA (4/7/2017) - Polaris' Cody Bradbury experienced a bad luck weekend, but came out in good points position after the WORCS SXS races at The Orleans Casino and Arena in Las Vegas. Bradbury now sits second in Pro SXS points and fourth in Pro Stock SXS.
The event featured a unique short course that was run inside the arena and in the parking lots surrounding the casino. With dirt, asphalt, a log section and a sand pit, it definitely threw a curve ball at all of the competitors. The real highlight was a big air double leading out of the arena section and Bradbury was one of the few competitors that hit it, and stuck the landing, every time.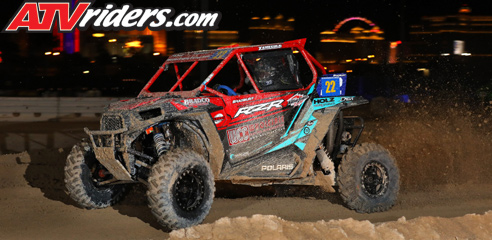 Cody Bradbury is holding down Second Place in the WORCS Pro SXS Points despite finishing 12th after having to make a pit stop
In the Pro UTV race, Bradbury, who was running his non-turbo car, was in contention early when he hit a block that was dislodged during a crash. He cut down a tire, pitted and quickly tried to make up time, especially on the big double. He finished 12th.
"I got back going and hammered as hard as I could," said Bradbury. "I was doing my best to make up time, so I came around and just pinned it going into the jump and hoped for the best. I did a few times and then I lost front-wheel drive. I got some points, but it was a little bit of a bummer day."
In Pro Stock, Bradbury avoided early carnage that took out several competitors on the first lap. While battling with another driver, they touched wheels and Bradbury lost an axle. He battled back to finish ninth.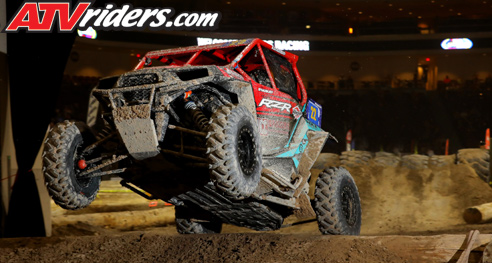 Cody Bradbury is running 4th in the WORCS Pro Stock Class after a top 10 finish at The Orleans Casino
"The asphalt was really slippery, I was in two-wheel drive and I spun out a few times," said Bradbury. "It was just one of those days when points were key. Hopefully, I can get the win both classes like I did last year at Sand Hollow. I'm not too far back in points, and I'm looking forward to getting luck back on my side."
Bradbury credited his Holz-built Polaris RZRs and a special set of Walker Evans Shocks for allowing him to be the only competitor to consistently stick the double.
"I ran some shorter shocks this weekend from Walker Evans and those, combined with the Holz stuff, made it so I was one of the only SXS drivers getting the double," said Bradbury. "A couple people tried it, but I was getting it. The Walker Evans shocks soaked it up just fine. I couldn't do this without Polaris. They make an awesome car. You're going to have parts fail now and again. Hopefully, I've got that out of my system and we're looking forward to some good finishes going forward."
Bradbury will be back in action and ready to repeat his double win as the WORCS series next heads to Sand Hollow State Park in Hurricane, UT April 21-23.
2017 Cody Bradbury Sponsors:
Polaris Factory Racing, Wholesale Capital Corporation, Walker Evans Racing, Holz Racing Products, GBC Motorsports, Cross Motorsports, Team Bradco, DASA Racing, Gates, SDI, Grant Steering wheels, Magik Graphics, K&N Filters, Temecula Motorsports