Nuevo, CA (4/26/2017) - Polaris' Cody Bradbury shook off recent bad luck to win the WORCS Pro SXS race at Sand Hollow State Park in St. George, UT. Bradbury finished sixth in the Pro Stock race. He now sits second in Pro and fourth in Pro Stock points.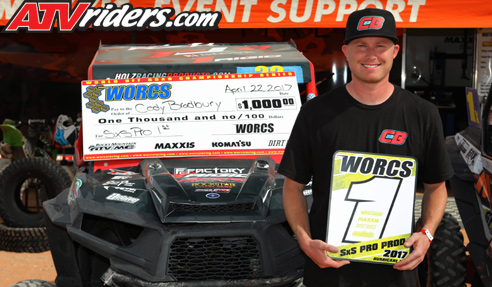 Polaris' Cody Bradbury Takes Pro SXS Win at Sand Hollow WORCS for the seond straight year, which currently has him 2nd in Pro SXS Points Championship after six rounds of WORCS racing
After a difficult pair of races, including a hard crash that totaled his RZR last weekend during the UTV World Championship, Bradbury nearly missed the Sand Hollow round. Overcoming adversity, Bradbury borrowed a RZR from RJ Anderson and got back to winning form here.
"It's been a rough go and I have to give thanks to RJ Anderson and the RJ 37 Off Road Team," said Bradbury. "Everything is the same on the Polaris RZR except the tires, so I put a set of my GBC Dirt Commanders on it and everything was hooking up really well. I actually debated even coming here after the crash."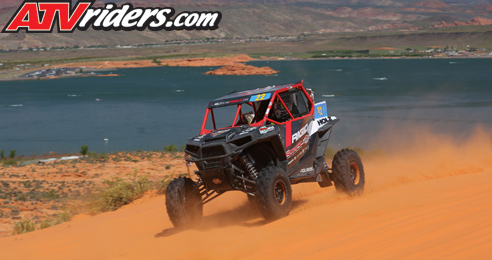 Cody Bradbury borrowed the same Polaris RZR that RJ Anderson won the UTV World Championship the week prior to the race at Sand Hollow
Bradbury was blessed to walk away from the crash in the UTV World Championship. He credited his Holz Racing Products car for protecting him. He was also thankful for Anderson allowing him to use the car in a pinch.
"I caught a berm in the dust and went end over end six times, but the Holz Racing Products cage really did its job and held up," said Bradbury. "Everything is the same on the car. The Walker Evans Shocks are valved a little differently, but it has the Holz Racing Products cage, arms, bumpers, nerf bars, swaybars. The only difference were the tires. Thank you to Polaris and for Tireblocks."
In Pro Stock, Bradbury was running in the top three when a hard hit on one of the track's many rocks dropped his RZR out of gear. He drove from the back of the pack to score the top-ten finish.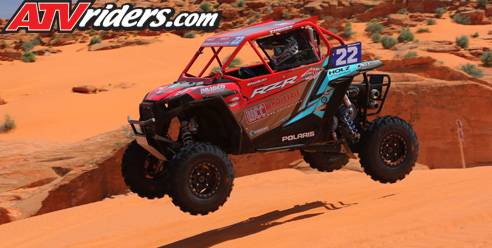 Holz Racing's Cody Bradbury finished 6th in Pro Stock, which currently has him 4th Place in the WORCS Pro Stock Points Championship
"I backed it off at the start and honestly tried to save my car," said Bradbury. "I was up to third and I hit a bump pretty hard, and the car shifted into neutral. I hopped out thinking I had blown a belt, and then hopped back in and got it back up to sixth. After my catastrophe in the UTV World Championship last weekend, my goal here was to get some points and not tear anything up."
With nearly a month before the next WORCS race, Bradbury is looking forward to getting his cars prepped. Then, he will rest.
"We'll take the next month to get cars ready and just take some time off," said Bradbury. "I've been getting up at four in the morning before work to work on cars and then going to work and working on them after work. So I'm ready for a little break."
Bradbury will be back in action as WORCS next heads to Iron Mine Racepark in Cedar City, UT May 19-21.
2017 Cody Bradbury Sponsors:
Polaris Factory Racing, Wholesale Capital Corporation, Walker Evans Racing, Holz Racing Products, GBC Motorsports, Cross Motorsports, Team Bradco, DASA Racing, Gates, SDI, Grant Steering wheels, Magik Graphics, K&N Filters, Temecula Motorsports