Nuevo, CA (5/24/2017) - Polaris' Cody Bradbury fought through dusty conditions and finished second in the WORCS Pro Stock SXS race at Iron Mine Race Park in Cedar City, UT. Bradbury finished ninth in the Pro race. He remains third in both title chases.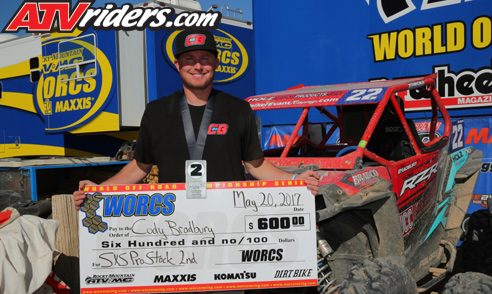 Polaris' Cody Bradbury Finishes 2nd in the Pro Stock SXS class at Iron Mine WORCS
Iron Mine is a unique track that features a hard-packed off road section, as well as two long air "ski jumps." A top-shelf motocross track and an endurocross section further challenged Bradbury. The biggest challenge, however, was the dust.
Bradbury started last in the Pro Stock race, but was quickly up to third on the second lap of the race. He took second in the final lap, showing smart driving through the difficult conditions to hand him his first Pro Stock podium. He now sits third in Pro Stock points, 19 points out the lead.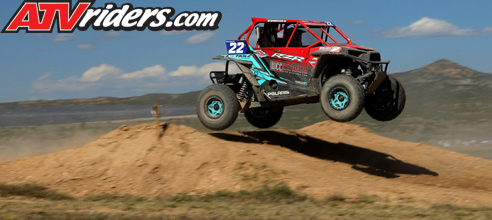 HOLZ Racing's Cody Bradbury
"The dust wasn't super fun today," said Bradbury. "I got up on two wheels and started dead last. I just tried to keep my car together so I could charge toward the end. I love this place. You have to push, but you also have to be smart in the dust. I haven't had the best finishes in Pro Stock so it was nice to get up to second."
Bradbury was again driving RJ Anderson's Polaris in the Pro race. Bradbury's own ride was virtually totaled in a hard crash earlier this year at the UTV World Championship. He won the last race in the "rental" ride, and scored a top 10 in it here. He is third in the Pro SXS title chase, 19 points out of the lead.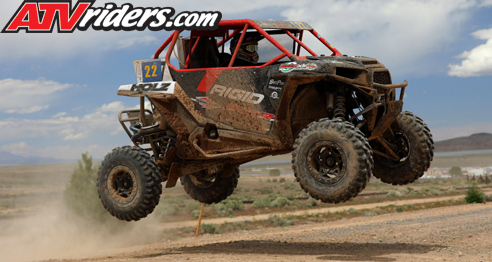 Cody Bradbury raced RJ Anderson Polaris RZR Turbo in Pro SXS
"I was driving the rental again," said Bradbury. "I couldn't get my car back together before the race, so I was driving RJ's car again."
Bradbury will be back in action as WORCS next heads to Glen Helen Raceway in Devore, CA for a Father's Day Weekend race June 16-18.
2017 Cody Bradbury Sponsors:
Polaris Factory Racing, Wholesale Capital Corporation, Walker Evans Racing, Holz Racing Products, GBC Motorsports, Cross Motorsports, Team Bradco, DASA Racing, Gates, SDI, Grant Steering wheels, Magik Graphics, K&N Filters, Temecula Motorsports