Las Vegas, NV (2/2/2017) - Sickness and bad luck sidelined PEP Suspension/Gold Speed/SSI Decals' Collins Webster during the second round of the WORCS racing Pro ATV series in Primm, NV. After coming into the event with the flu, Webster was slowed by drive chain issues just before the halfway point of the event.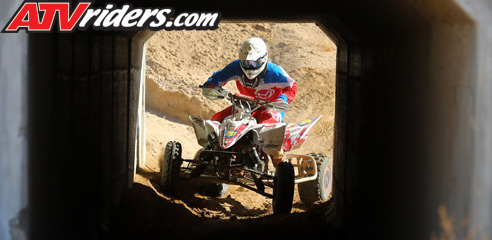 PEP / Goldspeed's Collins Webster was slowed by drive chain issues halfway into the Pro Main
Webster debuted his new Yamaha race quad in Sunday's Pro Main, after missing practice on Friday to rest and hydrate. He was running in contention when the chain on his ride rolled off the drive sprocket and wrapped around the swingarm of his ATV.
"I caught some kind of flu before the race and it wasn't very pleasant," said Webster. "We didn't do too much to the quad after Mesquite except to ride it a lot at the practice track. I got off the line and didn't feel too horrible, but I ended up rolling the chain in the rock garden section. The chain got wadded up into the swingarm and by the time we got it fixed the race was over."

The track was lengthened for the Pro race. Webster appreciated the longer layout."I really enjoyed the track," said Webster. "They probably doubled the track in size and I liked the longer laps, the rocks and technical stuff. Longer lap times make the race go by faster and makes it less monotonous."
SSI's Collins Webster was unable to finish the Pro Main due to drive chain issues on his Yamaha YFZ.
A gentleman racer to his core, Webster helped a fellow competitor get moving again in the rock section of the course. Mike Sloan's machine stalled near where Webster was attempting to repair the chain on his machine.
"I was sitting there in the rocks, trying to get my quad going," said Webster. "He came skipping into the rocks and his bike quit, so I helped push start him so he could get going again. I guess that's my kind gesture for the year."
Webster, who switched to the Yamaha for this season, finished fourth in the season opener. He hopes to rebound back into top form when the series heads to Taft, CA in a few weeks.
"I plan on being healthy and a little more hungry for the next round," said Webster. "I'll be ready to race. It's time to get on the box."
Webster will be back in action as WORCS next heads to Honolulu Hills Raceway February 17-19.
2017 Collins Webster Sponsors:
PEP Suspension, Goldspeed Tires & Wheels, SSI Decals, C&R farms, ATVriders.com, Quad Tech, Fasst Co, Immortal ATV, Moose Racing, Tire Blocks, Jen Broughton