Las Vegas, NV (4/27/2017) - Goldspeed Tires' Collins Webster finished fifth in the WORCS Pro ATV race at Sand Hollow State Park in St. George, UT. Webster now sits fourth in points, only five points out of the lead.
Sand Hollow is unique on the WORCS circuit in that it combines deep sand, jagged rocks and hard pack on the same course. Webster ran Goldspeed's Sand Tire and it worked in every area of the challenging track.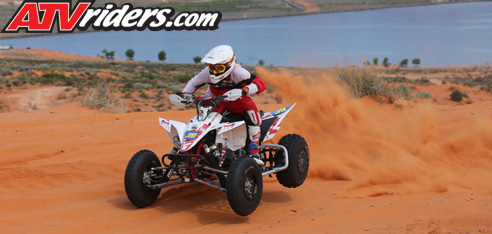 PEP / Goldspeed's Collins Webster finished fifth after a late race issue sidelined him, which currently has him 4th in points
"The bike was working great," said Webster. "We were great tire wise and the tires definitely gave us an edge. When I got into the deep stuff on the back of the track, I barely needed to try. Goldspeed Sand Tires hooked up really well in the sand and it worked well on the hard pack."
Webster was challenging at the front of the pack when bad luck struck. Webster figured out a fueling issue quickly and got back on track for the top five.
"I didn't want to push too hard because the track was a little sketchy," said Webster. "I had a few opportunities, but I was trying to wear the leader down. My vent hose was plugged and the bike vapor locked. I opened up the fuel cap, pushed it in and the bike fired."
Webster is happy to see his season starting to turn around. Despite early issues, he sits well in range for a championship run. Only five points separate the top four in the championship chase, so one race could easily put Webster into first.
"It's been a good season," said Webster. "We're battling for podiums now. The PEP suspension is great, the engine is there, and the tires are good…everything is where it should be. Other than some unforeseen circumstances, we're doing OK."
Webster will return to the WORCS Series May 19-21 when it heads to Iron Mine Racepark in Cedar City, UT.
2017 Collins Webster Sponsors:
PEP Suspension, Goldspeed Tires & Wheels, SSI Decals, C&R farms, ATVriders.com, Quad Tech, Fasst Co, Immortal ATV, Moose Racing, Tire Blocks, Jennifer Broughton