Las Vegas, NV (5/26/2017) - Goldspeed / PEP's Collins Webster finished fourth in the WORCS Pro ATV race at Iron Mine Race Park in Cedar City, UT. He currently sits fourth in points with three races left in the season.
Webster grabbed third at the start of the race, but had issues finding speed early. He rebounded late and finished fourth.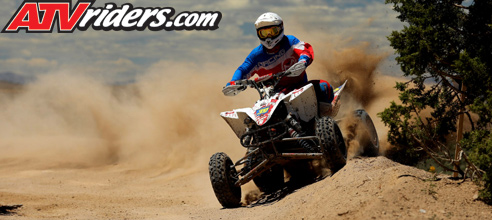 PEP / Goldspeed's Collins Webster finished fourth at the Iron Mine WORCS in Cedar City, Utah
"I was going as fast as I could go," said Webster. "I think corner speed was the big problem. The bike was good; it just wasn't our weekend. I felt really good at the end of the race so I need to warm a little better. It just took a little bit to get going."
Webster said his race quad was running perfectly. The suspension and the tires were perfect on the grueling Iron Mine track. Suspension is of utmost importance here as the track features a full blend of different racing disciplines with flat out off road sections, long "ski jumps" and a motocross course.
"My PEP Suspension was working great," said Webster. "There wasn't anything I couldn't hit. It took everything I threw at it."
Webster's practice quad has been sidelined for the last several weeks. Without enough time to practice, he admitted to being a little rusty. "I've had issues with my practice bike," said Webster. "I haven't been on the bike as much as I should be."
Webster will return to the WORCS Series June 16-18 when the series contests its first of two races at Glen Helen Raceway in Devore, CA.
2017 Collins Webster Sponsors:
PEP Suspension, Goldspeed Tires & Wheels, SSI Decals, C&R farms, ATVriders.com, Quad Tech, Fasst Co, Immortal ATV, Moose Racing, Tire Blocks, Jennifer Broughton