CST's Beau Baron Kicks off WORCS Season with Win
Beau Baron Takes Pro ATV Mesquite MX WORCS Win
Atascadero, CA (1/12/2017) - CST Tires' Beau Baron was right back on the top step of the podium as he won the season opening WORCS Pro ATV Race at Mesquite MX in Nevada. Riding his familiar CST Honda, the 2016 Pro ATV Champion ran a consistent pace early in the race before taking the lead for good.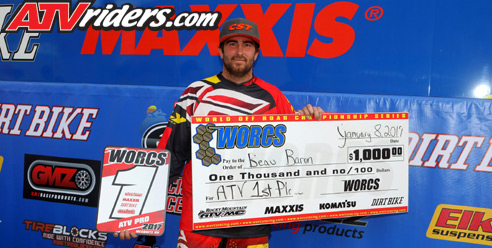 #1 Beau Baron kicks off the 2017 WORCS Pro ATV Season with the win at Mesquite MX
The event was held at the Mesquite MX track that was expanded for this event. Along with the motocross track, which features several triples, table tops and step ups, the track also included challenging deep sand whoops in the off road sections.
"I got some clean track, made up time a lap at a time and then I took the lead for good," said Baron. "This is probably the most brutal track we race and is easily as difficult as Havasu, but the CST Tires are so soft and it was amazing how long they last. They look brand new right now after the race. These are great tires. The Tire Blocks were great. We had no flats today."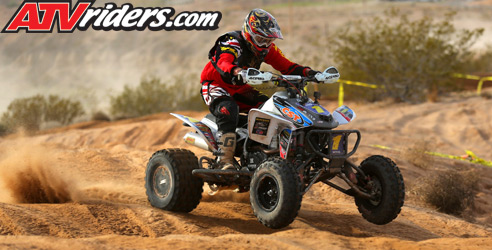 CST's Beau Baron charged his way into the lead late in the race, which he held to the checkered flag for the win to defend his #1 plate
The combination of different racing surfaces made suspension setup key to Baron's success. Again, the Roll Design Elka Shocks combined with legendary Sparks horsepower pulled Baron through to victory.
"Roll Design did a great job tuning the Elka shocks and my hat is off to Curtis Sparks for building the best engines," said Baron. "These engines are legendary, and I proved it again."
Baron is looking forward to kicking off the WORCS SXS series. He will have two Holz Polaris RZRs for the SXS World Finals January 20-22 in Primm, NV.
"Holz is building us two brand new SXS Polaris RZRs," said Baron. "I know I won't be able to drive them before Primm, but that won't matter. I didn't get to drive the car before the first race last year and we won, so we'll just see what happens."
Baron will be back in action in Pro ATV January 27-29 in Primm, NV where he looks to continue his defense of his WORCS Championship.
Beau Baron 2017 ATV Sponsors:
CST Tires, Sparks, Elka, Dwt, Tireblocks, Roll Design, Fasst Co., IMS, Hinson, Quad Tech, Maxima Racing Oils, TCS, Sunstar, Works Connection, Precision Racing, Bolt, Pro Motorsports, LKH Farms, H&M Motorsports, Impact Solutions, Atvriders.com, Gaerne, Shoei, FLY, X Brand Goggles
Beau Baron 2017 SxS Sponsors:
Polaris, CST Tires, Holz, Sparks, Elka, Dwt, Tireblocks, Pro Motorsports, Shoei, X Brand Goggles, Atvriders.com