CST's Beau Baron Scores Second Straight WORCS Win
Beau Baron Takes WORCS Pro ATV Win on Sunday
Atascadero, CA (2/1/2017) - CST Tires' Beau Baron won his second consecutive WORCS Series Pro ATV race in Primm, NV. Baron padded his points lead with the victory and looks to defend his 2016 championship.
Beautiful weather in the area after heavy rain last weekend made for perfect racing conditions. With low dust on the course, which was lengthened by two miles this year, every move mattered and Baron made the most of race strategy to win.
CST's Beau Baron charged his way into the lead on the final lap to claim his second straigth WORCS Pro ATV Win
Running second in the waning laps of the event, Baron pitted early and came out with clear track and vision to get the victory. He quickly caught up to the leader and took the lead for good on the final lap.
"This was a tough one today," explained Baron. "I pitted early on, and he didn't pit, so I had a nice clear gap for a while before catching up to him (Robbie). On the last lap, I was waiting for him to pit, so I knew that I was going to have to pass him. We got into the rocks, and I made a pass stick and started pulling a gap before his bike started sputtering."
Baron was quick to point out the competitive advantage provided by his CST Tires. His Sparks engine and his Elka suspension were also keys to the victory.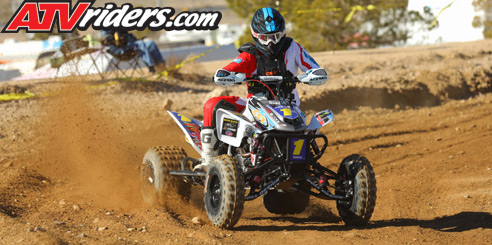 ELKA's Beau Baron
"It's pretty awesome to work with a company like CST," said Baron. "I'm thankful to Curtis Sparks for building such a great motor. A big hat is off to Doug at Roll Design for helping me with the Elka suspension. Suspension is everything out here, and I think I have the best out there."
Baron is a busy man during the off weekends from racing, when he has them. He competed in last weekend's WORCS SXS race, and has also been busy building SXS cars, ATVs and motorcycles.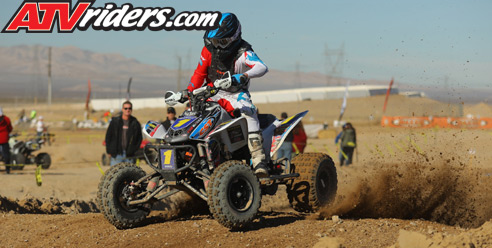 Sparks' Beau Baron looks to defend his 2016 championship with his second straight Pro win
"It's important to win two in a row especially because I haven't been training the way I want to," said Baron. "I've been too busy building bikes and SXS. For me to win right now is great, because I haven't even gotten my momentum going. These guys have really picked up the pace. They are hauling ass, so I have to stay on my toes and do the best I can to keep them off my heels."
Baron is excited to be heading to his home track for the next race. The event is being held at Honolulu Hills Raceway in Taft, CA, which features hard packed dirt and a motocross section. "I'm excited to go to Taft," said Baron. "It's my home track and it's more my type of racing."
Look for Baron to continue his streak as WORCS heads to Taft, CA February 17-19.
Beau Baron 2017 ATV Sponsors:
CST Tires, Sparks, Elka, Dwt, Tireblocks, Roll Design, Fasst Co., IMS, Hinson, Quad Tech, Maxima Racing Oils, TCS, Sunstar, Works Connection, Precision Racing, Bolt, Pro Motorsports, LKH Farms, H&M Motorsports, Impact Solutions, Atvriders.com, Gaerne, Shoei, FLY, X Brand Goggles