CST's Beau Baron Third Overall in WORCS SXS Opener
Beau Baron Takes WORCS Pro Stock Win on Sunday
Atascadero, CA (1/26/2017) - CST Tires' Beau Baron finished third in the Pro Stock portion of SXS World Finals in Primm, NV. Driving his Polaris RZR, Baron kicks off the 2017 WORCS SXS racing season third in Pro Stock points. Baron also finished sixth overall in Pro Production.
CST's Beau Baron kicks off 2017 WORCS SXS race season third in Pro Stock points
The unique doubleheader event was held over two days on two different racing circuits. Saturday's race featured a short course event on the Lucas Oil track, while Sunday's race was a traditional WORCS off road race. The finishes were combined for an overall result. Weather conditions covered three full seasons with rain canceling qualifying on Friday, beautiful blue skies on Saturday and winter weather with sleet and rain on Sunday.
With qualifying rained out, Baron drew a 30th starting position for the Pro Stock short course race. Amazingly, he drove through the field to finish eighth. Baron won Sunday's race and thus finished third overall.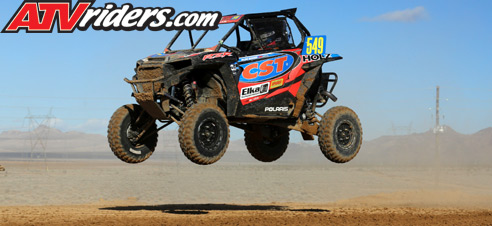 Beau Baron finished eighth in the Pro Stock class, despite starting 30th
"I finished eighth after starting 30th in the short course race, so that gave me a good gate pick for Sunday's race," said Baron. "Overall, I had a better day on Sunday and it's great to pull off a podium. I'm not where I want to be in points, but it sure beats a DNF."
Baron contended with mud, frigid weather, and overall awful conditions on Sunday to win the race on adjusted time. He toughed it out and scored the race victory.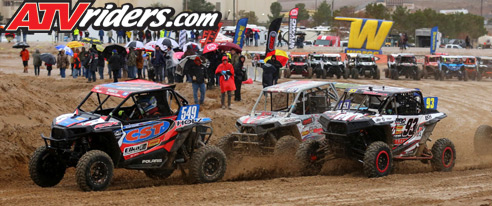 Sparks / CST's Beau Baron grabbed the Holeshot on Sunday in the mud
"The conditions were rough today," said Baron. "My eyesight is still blurry from having to toss goggles two laps in. It was a test, for sure. My hands were frozen and it was a tough deal today."
Baron was happy to have his trusty Polaris RZR under him. Despite the conditions, his SXS held up to whatever he threw at it.
"The Polaris RZRs are great," said Baron. "There is absolutely nothing done to my engines on both of them. I won a race in a completely stock car so that's a testament to Polaris."
Baron will return to SXS competition when the series heads to Honolulu Hills Raceway in Taft, CA February 17-19. He will also race in the WORCS ATV race January 27-29, also being held in Primm, NV.
Beau Baron 2017 SxS Sponsors:
Polaris, CST Tires, Holz, Sparks, Elka, Dwt, Tireblocks, Pro Motorsports, Shoei, X Brand Goggles, Atvriders.com

Beau Baron 2017 ATV Sponsors:
CST Tires, Sparks, Elka, Dwt, Tireblocks, Roll Design, Fasst Co., IMS, Hinson, Quad Tech, Maxima Racing Oils, TCS, Sunstar, Works Connection, Precision Racing, Bolt, Pro Motorsports, LKH Farms, H&M Motorsports, Impact Solutions, Atvriders.com, Gaerne, Shoei, FLY, X Brand Goggles