Beau Baron Takes WORCS Pro Stock SXS Points Lead
Beau Baron's Glen Helen WORCS ATV & UTV Race Report
Atascadero, CA (6/21/2017) - CST Tires' Beau Baron's third-place finish in the WORCS Pro Stock SXS race at Glen Helen Raceway in Devore, CA handed him the points lead in the ultra-competitive class with just two races left in the season. In the Pro ATV event, Baron won his sixth race of the season and continues his dominance in points. He also finished fourth in Pro Production SXS.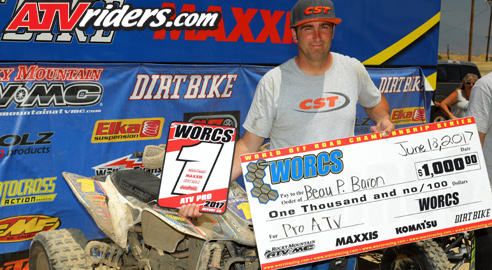 CST Tires' Beau Baron claimed his 6th Pro ATV Win at the Glen Helen WORCS to extend his points lead
Temperatures in the high 90s all weekend as well as the technical and challenging Glen Helen course dogged the competitors, but Baron was up for the challenge. In the Pro Stock SXS race, Baron wisely kept his car in the top five all race before scoring his fourth podium of the season.
"My main goal today was to keep my car together," explained Baron. "These jumps were really hard on equipment. I just ran smart, got some points and it panned out for me. It's really big to be in the points lead. So much effort goes into these cars so to have a finish on a weekend is a big plus. Working on all of my own stuff, it's a great feeling to be in the front. I have two rounds left, and I have to be smart and not get flipped."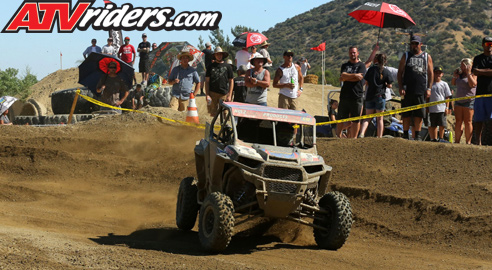 CST Tires' Beau Baron scored a 3rd place finish in SXS Pro Stock, which boosted him into the points lead
Keeping his Polaris RZR on track are a suite of quality components. While Baron was looking for consistency, it's those components that give him a competitive edge in every race.
"The DWT Wheels combined with the CST Tires and Tire Blocks is awesome," said Baron. "The tread on the tires looked the same as when I took off. The Elka Suspension was perfect all weekend. The car worked flawlessly."
In the Pro ATV race, Baron contended with a race shortened to just 40 minutes due to the heat. He took it in stride, coming out of a four-quad battle on the first lap to dominate the event. His sixth win of the season gives him a 35-point lead in the championship.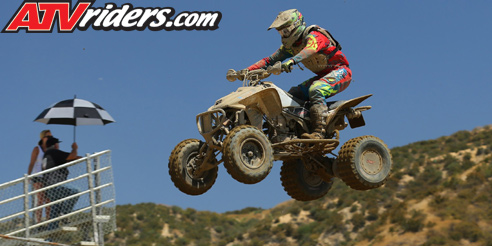 ELKA's Beau Baron
"I guess I was better prepared today," quipped Baron. "The Sparks engine and CST Tires got me out the start in great position. Honestly, when they threw the white flag, I felt like I was just warming up. This was a fun ride. I was having a great time. I really enjoy what I'm doing, even at the Pro level. It's fun to be racing."
Baron scored a fourth-place finish that elevated him to sixth in points in Pro Production SXS. He is going to work on his conditioning during the summer break to ensure he's prepared for another possible championship run.
"I made points and they're really important right now," said Baron. "The main goal is a championship. I'm just going to try to get all of my stuff ready for the next race, park and go ride my dirt bike so I can get back in shape. I put in 80 hours between each race just to get my SXS ready. So I'm going to get back into training, get back in shop so when I come back I can whoop them."
Baron will return to WORCS competition September 8-10 when WORCS heads back to Glen Helen.

Beau Baron 2017 SxS Sponsors:
Polaris, CST Tires, Holz, Sparks, Elka, Dwt, Tireblocks, Pro Motorsports, Shoei, X Brand Goggles, Atvriders.com

Beau Baron 2017 ATV Sponsors:
CST Tires, Sparks, Elka, Dwt, Tireblocks, Roll Design, Fasst Co., IMS, Hinson, Quad Tech, Maxima Racing Oils, TCS, Sunstar, Works Connection, Precision Racing, Bolt, Pro Motorsports, LKH Farms, H&M Motorsports, Impact Solutions, Atvriders.com, Gaerne, Shoei, FLY, X Brand Goggles