Beau Baron Clinches 6th WORCS Pro ATV Championship
Beau Baron's Glen Helen WORCS ATV & UTV Race Report
Atascadero, CA (9/13/2017) - CST Tires' Beau Baron scored his seventh WORCS Pro ATV win of the season and, in the process, he clinched an unprecedented sixth championship. Baron also finished second in the SXS Pro Stock race, padding his points lead with just one race left. The events were held at Glen Helen Raceway in Devore, CA.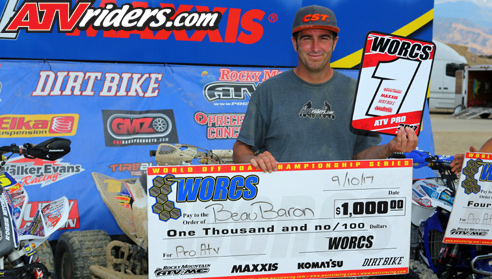 CST Tires' Beau Baron claimed his 7th Pro ATV Win at the Glen Helen & clinched his record setting 6th WORCS Pro ATV Championship
The track was run in reverse from the last event here and incorporated parts of the Glen Helen, Lucas Oil and Rim circuits, as well as special off-road sections. Weather was in the 90s with breezy temperatures that helped keep the dust to a minimum.
In the Pro ATV race, Baron took the holeshot on the live engine start and ran a consistent pace to the finish first in the one hour race and clinch the title. The championship allowed him to surpass the legendary Doug Eichner in total number of WORCS Pro ATV championships.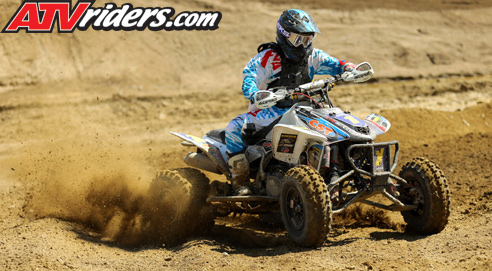 ELKA's Beau Baron
"I'm stoked to get the championship done a round early," said Baron. "It takes a lot of the pressure off. It's nice to get it done a round early because there will be a lot less stress at the last round. The Sparks motor got me out to a good start, the Elka Suspension worked great, and the CST Tires with Tire Blocks were hooking up."
In SXS Pro Stock, Baron continued his late-season tear in his Polaris RZR. The second-place finish allowed him to further extend the points lead he took in June,
also at Glen Helen.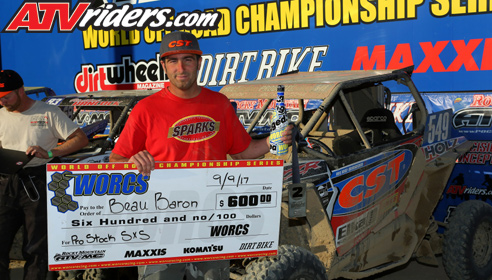 CST Tires' Beau Baron second straight Podium finish in Pro Stock SXS has extended his points lead heading into the season finale
"The biggest thing today was trying to keep my points in line," said Baron. "I'm going to play the last round cool and win a championship. I had a good finish and I added a lot to my points lead. I have a decent lead going into the last round. I just need to play it smart and make sure my car is ready to race the whole time."
Baron ran a new set of Elka shocks here. Developed and tuned by Doug Roll with the help of Baron, the shocks were perfect for the rough and racy Glen Helen course. In addition, he ran a newly developed set of CST Tires, which propelled him to the podium.
Sparks' Beau Baron has a 22 point lead heading into the season finale in the Pro Stock SXS Class
"I did some testing with Doug Roll in the off season and the new Elka's are working great," said Baron. "They keep the car flat in the corners and they work well on the big bumps. We're working on a new carcass for the CST tires and they are nice and light. The Sparks engine was awesome. Curtis Sparks does the mapping and the exhaust and this thing was flying. I couldn't be happier."
Baron will return to WORCS competition with an eye on adding the SXS Pro Stock title to his Pro ATV Championship as the series contests its season finale October 6-8. The event is being held at the Adelanto Stadium in Adelanto, CA.

Beau Baron 2017 SxS Sponsors:
Polaris, CST Tires, Holz, Sparks, Elka, Dwt, Tireblocks, Pro Motorsports, Shoei, X Brand Goggles, Atvriders.com

Beau Baron 2017 ATV Sponsors:
CST Tires, Sparks, Elka, Dwt, Tireblocks, Roll Design, Fasst Co., IMS, Hinson, Quad Tech, Maxima Racing Oils, TCS, Sunstar, Works Connection, Precision Racing, Bolt, Pro Motorsports, LKH Farms, H&M Motorsports, Impact Solutions, Atvriders.com, Gaerne, Shoei, FLY, X Brand Goggles