Bakersfield, CA (1/24/2017) - H&M Motorsports' David Haagsma finished second overall in the SXS World Finals in Primm, NV. Driving a naturally aspirated SXS, the defending champion starts out the WORCS off road racing series second in Pro Production points.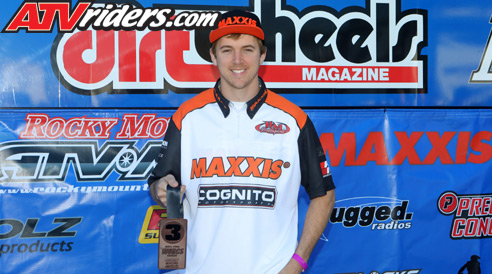 H&M Motorsports' David Haagsma Takes Second Place Overall Win at the WORCS SXS World Finals
The season opener for the WORCS series was run in a two-day format with a short course race on Saturday and a traditional off road race on Sunday. The race finishes were combined to determine finishing position. Weather conditions were all over the board, going from beautiful blue skies on Saturday to rain, sleet and cold temperatures on Sunday.
With qualifying rained out on Friday, Haagsma drew the number one starting position for the short course race, but had issues holding off the Turbos and dropped back to third place.

Maxxis' David Haagsma Grabbing the Holeshot on Saturday
"I was a little underpowered at this race because the turbos have a distinct advantage on the short course," said Haagsma. "You keep it pinned the whole time and that is where the turbos shine. I got a little lucky because they aren't as reliable, so I salvaged a third. We're running the same setup, engine and everything else we ran last year. It worked last year, so we're hoping it will work again."
Haagsma started third in Sunday's race and took on the muddy course with skill. He drove a smart race to earn a runner-up finish recording his second podium of the weekend and finishing second overall.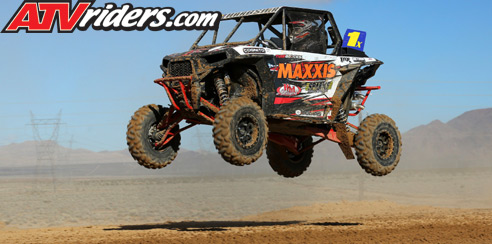 Maxxis' David Haagsma
"It was definitely a good run especially with the weather," said Haagsma. "These Turbos really out-powered my non-turbo, so it's nice to get two podiums in a weekend. We may have a car change before the next round. We may have a turbo."
Haagsma will be back in action as the WORCS off road series heads next to Honolulu Hills Raceway in Taft, CA February 17-19.
H&M Motorsports 2017 Sponsors:
Maxxis, H&M Motorsports, HP Dairy, Haagsma Farms, SPARKS Racing, Cognito Motorsports, Tire Blocks, FOX Shocks, Shoei Helmets, K&N Filters, PRP Seats, Method Race Wheels, Lusardi Motorsports, Finish Line Signs, The Winning Team Apparel, ATVRiders.com, Fly Racing