Bakersfield, CA (4/5/2017) - H&M Motorsports' David Haagsma ran a smart race and finished fourth in the WORCS series SXS Pro race at The Orleans in Las Vegas. Haagsma now leads SXS Pro championship by 28 points.
The event was held at The Orleans Casino Arena and the parking lots and grounds surrounding the venue. The track featured a terrain that went from hard-packed dirt to pavement outside to a log section, a sand pit and a big air jump inside the arena.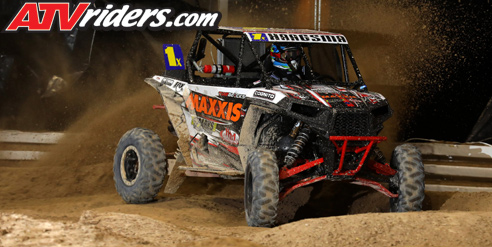 H&M Motorsports' David Haagsma battled for the lead early on, but he ran into some issues, which slowed his charge late in the race
Haagsma's car was perfect on the pavement in practice. However, prior to the race, officials watered the track. Pavement that was tacky and had grip in practice was super slick during the race. Knowing he didn't have the setup, Haagsma made the call to run a consistent race, stay smart and focus on the points.
"I couldn't turn on the pavement and actually spun out a couple of times," said Haagsma. "I knew I didn't have the setup, so I just tried to play it smart. All of those guys were running really well and I couldn't run that pace comfortably without making a mistake. The Maxxis Tires and Sparks Racing engine were perfect. I just didn't have the setup to run up front."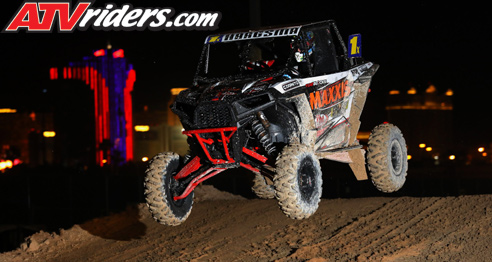 Maxxis' David Haagsma raced to a conservative 4th place finish, which keeps him in firm control of the points lead
Haagsma is fully focused on the 2017 WORCS championship. This year, he's won two races and scored two additional podiums.
"Overall it was a great race because I have a good lead in the championship," said Haagsma. "I just wanted to make sure I came out with a good finish. When you race a SXS in the WORCS series you just never know what is going to happen. The season is definitely not over yet and I have to take it one race at a time and try not to make any mistakes."
Interestingly, his accomplishments came at the wheel of a naturally aspirated car in a class that allows turbocharging. The turbo cars seem to break down more often, so the reliability of the non-turbo has been an asset for Haagsma.
Haagsma will return to WORCS competition as the series heads to Hurricane, UT for the next race at Sand Hollow State Park April 21-23.
H&M Motorsports 2017 Sponsors:
Maxxis, H&M Motorsports, HP Dairy, Haagsma Farms, SPARKS Racing, Cognito Motorsports, Tire Blocks, FOX Shocks, Shoei Helmets, K&N Filters, PRP Seats, Method Race Wheels, Lusardi Motorsports, Finish Line Signs, The Winning Team Apparel, ATVRiders.com, Fly Racing