Bakersfield, CA (4/26/2017) - H&M Motorsports' David Haagsma extended his points lead in the WORCS Series Pro SXS class after a third-place finish at Sand Hollow State Park in St. George, UT. Haagsma was again driving the top finishing naturally aspirated car in the class.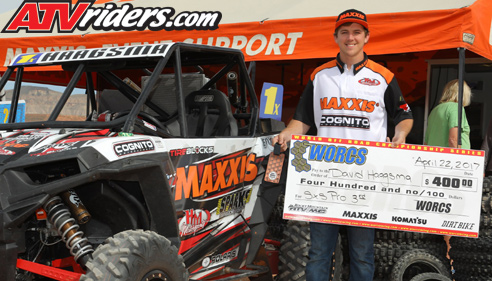 H&M Motorsports' David Haagsma secured his 5th Podium finish of the season with a 3rd Place finish in the WORCS Pro SXS Class, which now has him holding a 23 Point lead over 2nd Place
Haagsma drove his non-turbo car here despite the horsepower advantage of the turbo cars on the tough and beautiful racetrack. Though he was down on power on the rest of the field, Haagsma took the third spot on the final lap, and went on to record his fifth podium in six races.
"The sand takes a lot of horsepower and I knew I was underpowered," said Haagsma. "I had to race with the turbo cars and try to make it to the finish. With three corners to go, I got into the smoother stuff and barely got by for third. I had two more corners to block him and made it home third. Overall it was a good day points wise."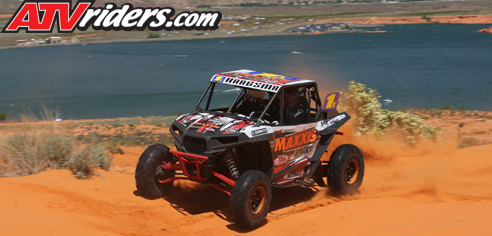 Maxxis' David Haagsma charged his way from 5th up to 3rd place in the final few turns to claim a spot on the podium
Sand Hollow is traditionally made more difficult by sharp rocks covered in the deep sand. Many racers had tire problems here, but Haagsma's Method Wheels, Maxxis Tires and Tireblocks kept him going when the going was seriously rough.
"The Maxxis tires were great and I have to thank Kenny from Tireblocks," said Haagsma. "This race is so hard on wheels and tires because of the rocks under the sand. I took some hard hits out there and the Method Wheels still look brand new. Fox Shocks and Sparks really helped me out to compete with the turbo cars."
Haagsma is continuing to work on building a turbo car. Despite his success with the normally aspirated engine in his current ride, he sees the future is in turbocharging.
"The turbo guys are starting to get it figured out," explained Haagsma. "There is definitely a big performance difference between the 2017 turbos and non-turbos. Eventually we're going to have to go that way to compete."
Haagsma will return to WORCS competition as the series heads the Iron Mine Racepark in Cedar City, UT May 19-21.
H&M Motorsports 2017 Sponsors:
Maxxis, H&M Motorsports, HP Dairy, Haagsma Farms, SPARKS Racing, Cognito Motorsports, Tire Blocks, FOX Shocks, Shoei Helmets, K&N Filters, PRP Seats, Method Race Wheels, Lusardi Motorsports, Finish Line Signs, The Winning Team Apparel, ATVRiders.com, Fly Racing