Bakersfield, CA (6/21/2017) - H&M Motorsports' David Haagsma rebounded from bad luck in the previous event to finish third in the WORCS SXS Pro Production race at Glen Helen Raceway in Devore, CA. Haagsma now holds a 12-point lead in the title chase with just two races left this season.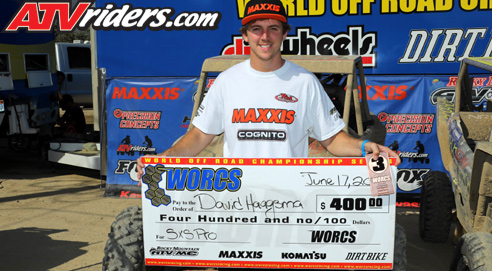 H&M Motorsports ' David Haagsma claimed a third place finish in the WORCS Pro SXS Class at Glen Helen
Haagsma made up from a slow start and quickly moved his way up into the top three. Despite the high temperatures all weekend and a challenging track, he came away with his sixth podium of the season.
"I really had to work my way up," explained Haagsma. "I'm still happy with third place because I'm watching the points, trying to stay consistent and not do anything stupid. We'll be back here in September and do it again."
Haagsma is one of the few drivers utilizing a naturally aspirated engine in a class that allows higher horsepower turbocharged cars. His SPARKS Performance Engine and better reliability, though, has pulled him through this season. Tire Blocks in his Maxxis Tires helped him negotiate the rough course.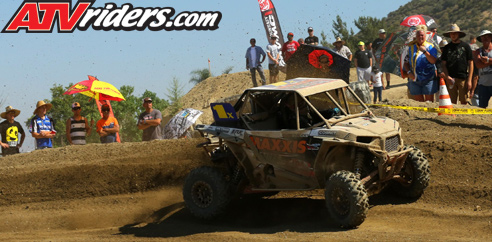 H&M Motorsports ' David Haagsma holds a 12 point lead in the WORCS Pro SXS Class heading into the final two rounds
"The car was great," said Haagsma. "I hit a rock and ripped a huge hole in my front left tire. So I have to thank Tire Blocks because I barely noticed and it didn't slow me down. The track was a little gnarly with a lot of rocks."
Haagsma now heads into the summer break with an eye on the title. He'll spend the time off getting ready for the final two races of the season.
"We'll repair all of the damage on this car and keep testing the new turbo car so we have the option to run it," said Haagsma. "It does look like we'll run the non-turbo for the rest of the year because it's been so good to us this year. It's a little slower, but it's happier."
Haagsma will be back and ready to continue dominating the Pro Production class as the WORCS Series returns to Glen Helen September 8-10.
H&M Motorsports 2017 Sponsors:
Maxxis, H&M Motorsports, HP Dairy, Haagsma Farms, SPARKS Racing, Cognito Motorsports, Tire Blocks, FOX Shocks, Shoei Helmets, K&N Filters, PRP Seats, Method Race Wheels, Lusardi Motorsports, Finish Line Signs, The Winning Team Apparel, ATVRiders.com, Fly Racing