Bakersfield, CA (10/12/2017) - H&M Motorsports' David Haagsma clinched his second consecutive WORCS SXS Pro Championship during the season finale at Adelanto Stadium. Haagsma scored an eighth-place finish, adding to his two victories this season, as well as five additional podiums.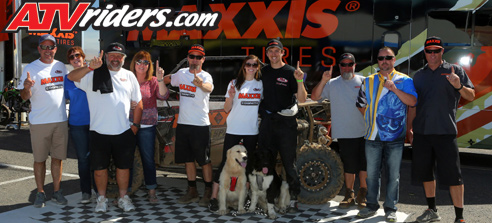 H&M Motorsports ' David Haagsma Clinches his 2nd Straight WORCS Pro SXS Championship
Haagsma needed to merely finish the race to clinch the title and he drove a conservative pace to ensure that. In the process, he became part of an elite group of consecutive title winners.
"We came into it knowing I had to only finish half a lap," said Haagsma. "I didn't get a good jump at the start, so I just ran my own race and didn't get into trouble. I'm really proud because the guys that did it before me were really good. We didn't change one thing from last year."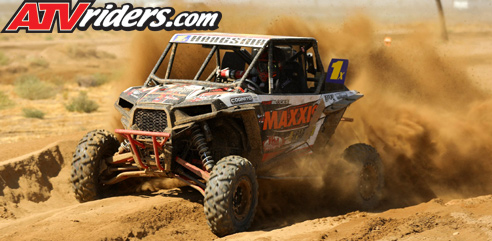 Sparks' David Haagsma rode a conservative final race to make sure he didn't have any issues with the championship on the line
Though the Pro class allows turbo and supercharging, Haagsma started the season with a naturally aspirated car. With a built Sparks Performance Engine, Haagsma took the points lead midway through the season and, despite having a turbo car built, he stayed with the NA car to the end.
"We ran an NA car because we know it's been proven," said Haagsma. "It may not be the fastest in lap times, but it's durable. I was getting beat at the beginning of the season so Justin Lambert at Cognito built me a turbo car. We did some testing, but by the time we finished testing we had the points lead and turbos were breaking at every single race."
Haagsma also credited Lambert and Congito for helping him build a championship winning car. Along with the competitive ride came Lambert's guidance in setup.
"Justin Lambert isn't just the guy building the car, but he's also out there racing," said Haagsma. "The guy goes out and tests and gives me feedback and it ends up working every time. We put a really good program together."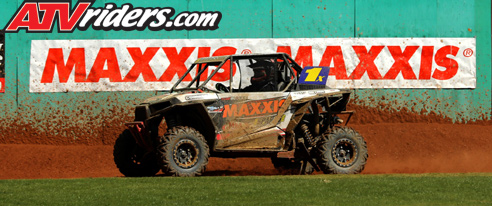 Maxxis' David Haagsma
Maxxis Tires with Tire Blocks gave him a flat-free season this year, key to the momentum necessary to win the title. Keeping him competitive in the horsepower department was his Sparks engine.
"Ever since Tire Blocks came out I haven't had one flat," said Haagsma. "If you're not running them, you will lag behind. Maxxis Tires have been awesome. I big shout out to Sparks because we have a non-turbo car that's pumped up. He built this belt system for me so I'd stop popping belts."
It's definitely been an eventful season on and off the track for Haagsma. He elected to leave ATV racing this season to focus on SXS. He also proposed to his girlfriend Paige Spalinger recently and is getting married next year.
"It's been an awesome season," said Haagsma. "I stepped away from quads to focus on the RZR. Thank you to my mechanics Allen and Theo. I have a lot of good people behind me and that won't change."
Haagsma will return to WORCS competition next season. The season opener is scheduled for February 2-4 at The Orleans in Las Vegas.
H&M Motorsports 2017 Sponsors:
Maxxis, H&M Motorsports, HP Dairy, Haagsma Farms, SPARKS Racing, Cognito Motorsports, Tire Blocks, FOX Shocks, Shoei Helmets, K&N Filters, PRP Seats, Method Race Wheels, Lusardi Motorsports, Finish Line Signs, The Winning Team Apparel, ATVRiders.com, Fly Racing