David Martinez Top Ten at BITD Silver State 150
David Martinez BITD Silver State 150 Pro Turbo UTV Race Report
Newport Beach, CA (10/2/2017) – David Martinez continued to show his competitive spirit in his Polaris RZR XP4 Turbo, finishing 10th in the UTV Turbo Class in the Silver State 150. The race was round five of the Best in the Desert Series.
After two races working out the new car gremlins, Martinez scored his first top ten since scoring a fourth place at the Mint 400. He aced the circuit-style track that featured a blend of tight technical sections in the rocks and canyons, as well as high-speed open sections.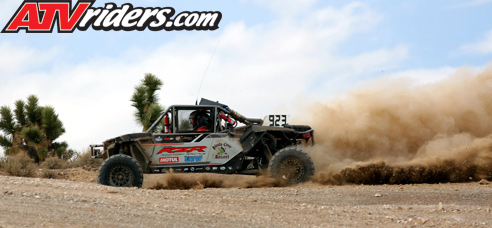 David Martinez scores a top ten finish at the BITD Silver State 150
"This was the most fun I've had in the new car," said Martinez. "I finally got to drive it like I wanted to. I've been babying it while I got used to it, so it was nice to drive it hard. I really wanted to see what it could do. The car was awesome all the way through."
Martinez is in his first year of racing the Pro Turbo class. Martinez pulled off the top 10 despite steering rack issues and a flat tire just 10 miles from the finish. The minor issues were indeed minor as many cars succumbed to the difficult terrain.
"The course was super fast and technical in some areas," said Martinez. "There was a lot of carnage with cars flipped over. The steering was fighting us for the last 50 miles so we just tried to get a finish and then I had a flat tire 10 miles from the finish."
Temperatures were unseasonably cool during the race. At the start, it was below freezing and the mercury never moved much past 40 degrees during the event. Martinez said the cool temperatures made for better racing.
"The cool weather was the best thing for the car because the belt temperatures were so high," said Martinez. "We were cruising all day without a belt issue and Gates Belts came through again."
Martinez has a huge group of sponsors behind him, including Polaris and UTV Inc., as well as Motul USA, and ITP Tires. They make it possible for him to compete at the highest level of off-road racing.
"UTV Inc and Johnny Angal came through with an awesome car and I want to thank Craig Scanlon from Polaris for letting me race for the RZR team," said Martinez. "I'm proud to get a good finish and keep the momentum going forward."
Martinez will be back in action as BITD heads to rural Tonopah, NV for the Tonopah 250. That race is scheduled for October 19-22.
David Martinez 2017 Sponsors:
Polaris RZR, UTV.Inc, Motul USA, Pirate Cove Resort, Giant RV, Attitude Toy Haulers, UTV UG Race Team, ITP, FOX, PCI Radios, Method Race Wheels, Shock Therapy USA, Summers Bros, BAJA Designs, Gates G Force, Beard Seats, HMF Racing, K&N Filters, Shoria Batteries, Factory UTV, Pro Eagle Jacks, Action Sports Canopies, AM Racing, Gator Wraps, ATVriders.com