Can-Am's Don Higbee Takes Second at BITD Parker 250
Don Higbee and Bryan Buckhannon Team Up for 2017 BITD Series
Casper, WY (1/13/2017) - After nearly missing out on the 2016 Best in the Desert Pro Quad Championship by a few points, Don Higbee has dramatically switched up his race program for 2017 by switching to the Can-Am Outlander 1000 and teaming up with multi-time GNCC Pro 4x4 Champion, Bryan Buckhannon in hopes taking the number one plate in 2017 BITD Series aboard a utility quad. Higbee got off to a great start to the season by scoring a second place finish at the Parker 250, and was the only 4X4 utility quad in the class.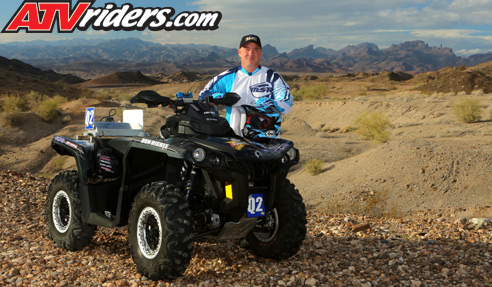 Driven Powersport's Don Higbee made the switch to the Can-Am Outlander 1000 for 2017 & he has teamed up with multi-time GNCC Pro 4x4 Champion, to compete in the Best in the Desert Series Pro Class
Buckhannon took the lead early in lap one of the nearly 250 mile long three-lap event before switching with Higbee. Higbee set a fast pace, but an unfortunate collision with a rock slowed his charge. They rebounded to finish second.
"Bryan came in with a healthy 10-minute lead, I took over, hit a rock about ten miles into the lap second lap," explained Higbee. "I wadded it up and ripped the whole floorboard off the left side. I limped it to the pits, and the crew did a great job putting it back to together before Bryan headed out for the final lap and brought home a second place finish. The course was really rough. There were a lot of rocks and whoops. It was a fun course, challenging and tough. We had the only utility 4X4 quad out there and we did great."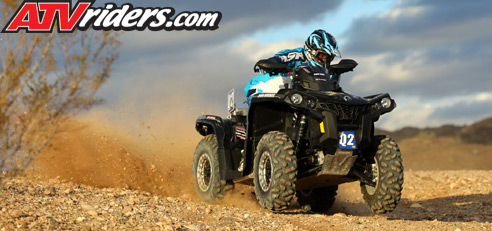 Can-am's Don Higbee
Higbee added "It is awesome to have Bryan on the team, and he just did a great job bringing it in with a solid ten minute lead after the first lap, and we are the only 4x4 utility machine out there against the sport quads, so it was great to grab the quad from him in first place."
Buckhannon is trading the trees and tight muddy courses of the GNCC series for the wide-open deserts of BITD competition this season. Always a force in GNCC, Buckhannon showed his skills are just as useful in the desert.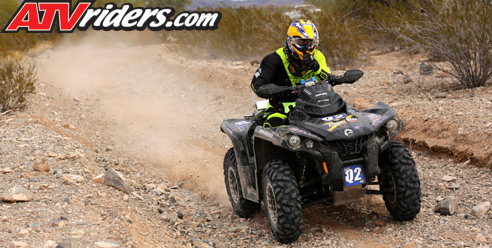 Tucker Rocky's Bryan Buckhannon is excited to be back racing in the desert, and he plans to only race select GNCC events in 2017
"It's been about four years since I ran a quad here in BITD," said Buckhannon. "It was great to be back. It was kind of like a vacation for me. I get to switch it up and go a little faster. We had a good run today. We definitely could have won. I'm just glad Don is OK. He took a hard hit today."
Buckhannon is focused on racing with Higbee in the BITD Series, and he is just going to race at select GNCC events and the Hunt the Wolf in Romania this year. "I just needed a change this year," said Buckhannon. "We're not going to run the whole GNCC season, but I may hit a couple of races. I just wanted something different."
Higbee is excited to still have plenty of the great sponsors from 2016 including Custom Axis, which built him an incredible set of shocks for his new Can-Am Outlander 1000. He also has added several of Buckhannon's long time sponsors to make for a potent combination to chase after that coveted number one plate in the Best in the Desert series.
Buckhannon and Higbee will return to BITD racing at UTV World Championship, round two of the four-race ATV Series, April 14-15th in Laughlin, NV.
Driven Powersports Racing 2017 Sponsors:
Can Am, Driven Powersports, Custom Axis, Tucker Rocky, Dirtworks, Tire Spines, David Jesse Racing, OMF, Dirtworks, Kenda, DP Brakes, Evans Coolant, MSR, Arai, Team JDR, Airdam Clutches, Spider Graphix, Cecco Racing