Driven Powersports Team Ready for 2017 Desert Racing
Team to Compete in SCORE and BITD Pro ATV Classes
Casper, WY (3/6/2017) - After finishing second in the opening round of the Best in the Desert Series, Don Higbee unveiled his newly formed Driven Powersports/Can-Am team with an expanded four-rider effort. The team will compete in the Best in the Desert Series and SCORE International ATV races this season.
After just missing out on the BITD Pro ATV Championship last year, Higbee has teamed with Bryan Buckhannon, Rick Cecco and Michael Burrows on a Can-Am Outlander 1000R in BITD. Cody Mitchell will also join the team for SCORE events.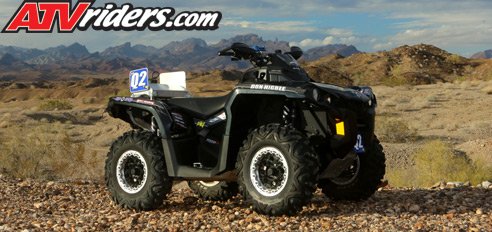 For 2017, Don Higbee has teamed up with Bryan Buckhannon, Rick Cecco, Michael Burrows, and Cody Mitchell to race in the BITD & SCORE Series on the Can-Am Outlander
Though they are running one of the few utility quads in classes dominated by sport ATVs, Higbee thinks it actually gives them a competitive advantage. Higbee and his teammates are all tuned into the machine.
"I am very comfortable on the Outlander 1000R platform," said Higbee. "I rode the Iron Man class in the Baja 1000 in 2013 and I feel at home on the platform."
Higbee raced with the Buckhannon in the BITD season opener. The pair finished second after a hard crash trashed one side of their machine.
The Driven Powersports Team heads to Mexico for the SCORE San Felipe 250 Season Opener on March 29 - April 2nd
"It's been about four years since I ran a quad here in the desert," said Buckhannon after the Parker 250. "It was great to be back. It was kind of like a vacation for me. I get to switch it up and go a little faster."
Higbee was also glad to add Mitchell for the SCORE events. His experience will add depth to an already all-star squad.
"We compete against Cody in BITD, but I'm happy to have him on the team for SCORE," said Higbee. "He knows the desert well, is quick and knows how to finish races. That plays right into our strategy. We have a great mix of riders on the team and look forward to a solid year in the desert."
The Driven Powersports team will kick off the SCORE season during the season opening San Felipe 250 March 29-April 2. The team will then compete in the BITD UTV World Championship April 14-15 in Laughlin, NV.
Driven Powersports Racing 2017 Sponsors:
Can Am, Driven Powersports, Custom Axis, Tucker Rocky, Dirtworks, Tire Spines, David Jesse Racing, OMF, Dirtworks, Kenda, DP Brakes, Evans Coolant, MSR, Arai, Team JDR, Airdam Clutches, Spider Graphix, Cecco Racing