Driven Powersports' Team Podiums at Silver State 150
Don Higbee & Rick Cecco Silver State 150 BITD Race Report
Casper, WY (10/4/2017) - Can-Am Driven Powersports' Don Higbee teamed up with Rick Cecco and finished third in the Silver State 150. The race was the fifth round of Best in the Desert Series and was held in the high desert near Caliente, NV.
Riding a Can-Am Outlander 4X4 ATV in a class usually dominated by sport quads, Higbee had originally planned to compete in the SCORE race in Mexico, while Cecco was going to run by himself in BITD. While running just a minute out of the lead in Mexico race, an unfortunate mechanical issue sidelined Higbee's efforts, so he headed to Nevada to ride with Cecco.
Driven Powersport's Rick Cecco grabbed the holeshot with the Can-Am Outlander
"We showed up down there with a brand-new machine, racing with Jeremy Gray and Jose Torres and had a really unfortunate incident," said Higbee. "A rock came up, hit the water pump housing bolt, snapped it off and drained all of the coolant out of the bike. It was game over from there. So we packed it up, headed to Caliente and put in some seat time with Rick."
The Can-Am was running some pretty "un"-utility like speeds and was great in the many tight technical sections of the course. Combined with Kenda Tires, OMF Wheels, and Tire Spines, the quad ran flawlessly all race.
Kenda's Don Higbee made the long drive up from Mexico to race the final leg of the race
"We're pushing that Outlander to the limit and we're getting 90 mph out of that thing," said Higbee. "The Air Dam clutch setup works spectacular, as always and we had zero belt issues. The combination of OMF Wheels, Tire Spines and Kenda Tires has been great for us all year. This is the first year we haven't had any tire issues."
Cecco ran the first two thirds of the race, handing over riding duties to Higbee in pit three. Cecco lost time for good reason. He was lending a hand to two fallen riders.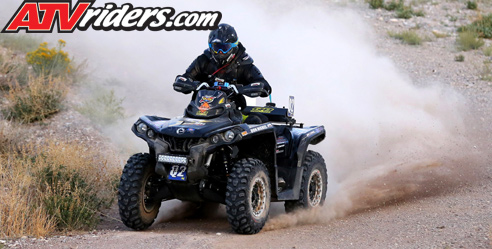 Driven Powersport's Rick Cecco & Don Higbee rounded out the top three
"I came across a rider that had completely flipped over," said Cecco. "So I stopped and helped them up. It wasn't too much longer that I came across another rider that was down so I stopped to help him. I had a lot of fun and I liked the track. It had a lot of tight trails especially for a desert race. The Can-Am worked perfectly and the day worked out really well."
Higbee is still in contention for the titles in both SCORE and BITD. Though the points tightened in both series, ever the competitor, Higbee is eyeing winning out in both series.
"We're excited for the last two races," said Higbee. "We have mathematical chance of winning both the BITD and SCORE titles and we're 100% ready to go. We're going there to win. We just need a little good fortune."
Higbee will return to the BITD Series October 19-22 for the Tonopah 250 in Tonopah, NV.
Driven Powersports Racing 2017 Sponsors:
Can Am, Driven Powersports, Custom Axis, Tucker Rocky, Dirtworks, Tire Spines, David Jesse Racing, OMF, Dirtworks, Kenda, DP Brakes, Evans Coolant, MSR, Arai, Team JDR, Airdam Clutches, Spider Graphix, Cecco Racing