Driven Powersports' Team Second at Vegas to Reno
Don Higbee, Rick Cecco & Bryan Buckhannon BITD Race Report
Casper, WY (8/24/2017) - Can-Am Driven Powersports' Don Higbee teamed up with Bryan Buckhannon and Rick Cecco and finished second in the Best in the Desert Vegas to Reno, which moved the team to within two points of the Pro Quad points lead after three consecutive podium finishes this season.
Riding a Can-Am Outlander 4X4 ATV in a class usually dominated by sport quads, the team continued to show the quad's competitiveness. They held the early lead until pit four, and they went on to finish the over 500 mile long race in the second spot, which gave them a boost in the points championship.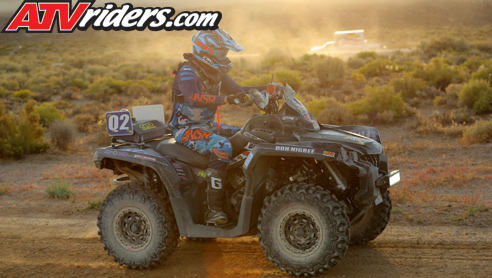 Can-Am's Bryan Buckhannon
"This is likely the best time we've ever put in out in the desert," said Higbee. "This was probably one of the closest desert races we've ever been in. Everyone put their heads down, we had a great effort and we had zero issues all day. That's the key. The Q1 Team had zero issues, as well, so it was just a straight-up battle. We played it safe during the last 75 miles."
Cecco said the team used notes gathered during its run in the Baja 500 earlier this year. With similar terrain and distance, the setup and strategy worked perfectly.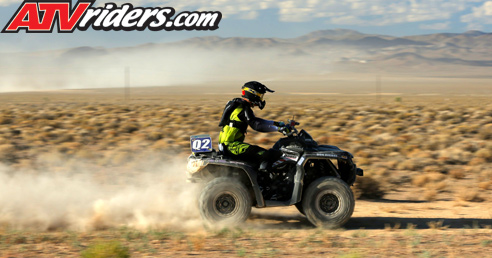 Driven Powersport's Rick Cecco
"It's a very similar race in terms of distance and what we needed to do for fuel," said Cecco. "The machine worked flawlessly. We came out with a second place and, I couldn't be happier with the results."
Higbee rolled out a brand new Can-Am for the event. The fresh ride, combined with Custom Axis Shocks and Airdam Clutching proved to be a winning combination.
"We only had 80 miles on this bike and it was nice to run a fresh ATV," said Higbee. "The Custom Axis shocks were great. David Jesse does our geometry setup on that bike and it was spot on. We were running it in the upper 80 mph range consistently on those long stretches and it worked perfectly. Airdam does all of our clutching and we had zero belt issues. We've never broken a belt with them."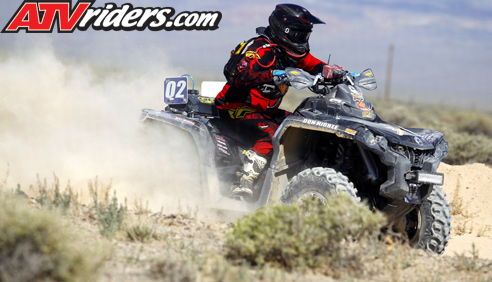 Kenda's Don Higbee
The area experienced little rain leading into the event, causing the silt beds to cover large rocks. The combination of the Kenda Tires and Tire Spines gave the team the longevity it needed to take on the tough run.
"We ran Kenda Tires with Tire Spines and had zero flats all day," explained Higbee. "There were a lot show stoppers (rocks) buried in the silt. Luckily we avoided them. We had some cut tires toward the end, but the Tire Spines hung in there for us and we got it across the line."
With a SCORE race being held the same day as the next round of BITD competition, Higbee will be running in Mexico, while Cecco will race in BITD's Silver State 150 in Nevada. Those races are scheduled for September 23.
Driven Powersports Racing 2017 Sponsors:
Can Am, Driven Powersports, Custom Axis, Tucker Rocky, Dirtworks, Tire Spines, David Jesse Racing, OMF, Dirtworks, Kenda, DP Brakes, Evans Coolant, MSR, Arai, Team JDR, Airdam Clutches, Spider Graphix, Cecco Racing