Page, AZ (1/14/2017) – Duncan Racing's Andrew and Erin Simmons made their team's Best in the Desert Series Pro ATV debut count as the brothers claimed the season opener win at the Parker 250 in Arizona, and they did it on a newly built Duncan Racing Honda 450R.
Despite having never even raced the Parker 250 and never competed as a team, and riding a quad they'd never even sat on, much less raced, the brothers were determined. They split riding duties and rode a consistent pace to take an impressive win in their pro debut.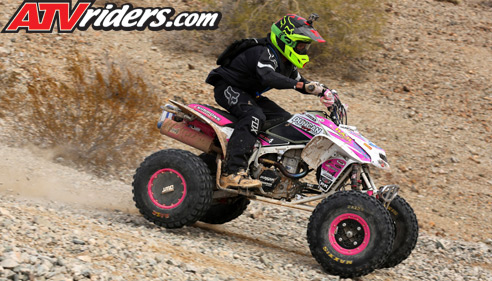 Q5's Drew & Erin Simmons teamed up with Duncan Racing to build a Honda 450R for them to compete in the 2017 BITD Pro Quad Class
"Today was the first time we even got to see the quad," said Andrew Simmons. "It was something else. It has tremendous power and everything was really dialed in on it. It's a great bike and is super fun to ride."
"That was awesome," he added. "For our first Pro team race, it was exciting. We were super stoked to pull off this win. My brother (Erin) started out the race. He got us up to second. Then I got on the bike and I made it into the lead."
The brothers aren't strangers to BITD competition. They ran in the Ironman Class last year in Vegas to Reno. While his brother, Mike finished second and Erin won the class, Andrew crashed.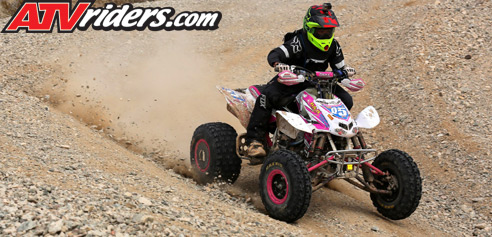 Antelope Tour's Erin & Drew Simmons scored the Pro Quad Win at the Parker 250 in their BITD Pro debut
"So we decided to try the team thing this year," said Andrew Simmons. "We all ride very closely, so we decided to team up and go for the championship. We thought we were pretty quick, so we decided to try out Pro and see how it went. So far, it looks pretty good!"
Erin Simmons overcame a crash during his stint and came into the pits second. He handed the quad over to his brother who finished the winning run.
"I ran a steady race and made it up to second," said Erin Simmons. "I did wreck at about 42 miles. I got the quad back on four wheels and kept going. I was super excited. I was so nervous going into the race. I knew we had a good chance, and I am super stoked about the win."
Lenny Duncan built the new Honda 450 for the brothers. He was overwhelmed by the results. "The first time they rode it was when the green flag dropped," explained Duncan. "When you work as hard as you do to build a machine, you really put your heart and soul into it. To see these guys got out as rookies and win their first race on a bike that I built? I was ecstatic. You couldn't write the story any better."
The Simmons will return to BITD competition at the next ATV round, April 14-15 during the UTV World Championship in Laughlin, NV.
Team Pointless 2017 Sponsors
Antelope Tours, B&B Auto, Duncan Racing. Fat Boy 4 Exhausts, West Coast Tireballs, Roll, Elka, DWT, Maxima, Vortex, GPR, Hinson, IMS, RK Chains, CRF Skidplates, Flexx Bars, Works Connection