El Cajon, CA (1/12/2017) - Duncan Racing / STI's Kyle Fuller scored a runner-up finish in Production A and recovered from a hard crash to score a top 10 in Pro Am during the season opening ATV WORCS Off Road race at Mesquite MX in Nevada. Fuller returned to WORCS racing this year with longtime sponsor Duncan Racing and his #145 Honda.
In Production A, Fuller hung back at the start and drove through the field to finish second. He dialed in his Elka shocks to deal with the rough track conditions.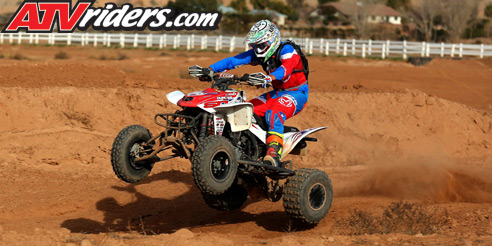 STI's Kyle Fuller finished second in the WORCS Production A Class on Saturday at the Mesquite MX Season Opener
"I started last and worked my way through the pack," said Fuller. "The track was really rough. The bike was working well. It was difficult to set up the shocks because this track had a little bit of everything. I just found a happy medium and it worked out well."
Fuller took the same setup into the Pro Am race and used similar tactics to stay in contention during the late stages of the event. He was charging to the front when a hard crash relegated him to a ninth-place finish.
"I didn't want to get the holeshot today because I knew everyone would be trying to kill themselves at the start," said Fuller. "So I just hung back and kept my own pace. My plan was working out and the bike was flawless. On the second-to-last lap, I was feeling really good and charging forward when I hit a whoop the wrong way and ended up on my back. That pretty much ended my whole day. I pulled my bike into the pits and waited for the checkered flag to come out, so I could take the finish."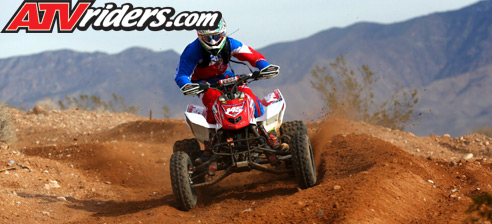 Elka's Kyle Fuller worked his way into the lead in the 6th lap of the Pro-Am race before a wreck with 2 laps to go ended his day
Fuller is pleased to welcome back Duncan Racing this year, as well as a brigade of other awesome sponsors. "Duncan Racing has been backing me forever and they have been an awesome partner," explained Fuller. "They are super important to my program."
Fuller is still getting used to racing without his brother Garrin. Garrin Fuller retired from racing after last season. "It feels really weird not having him here," said Fuller. "It always helped me out when Garrin was here. He was always helped me with lines and racing advice."
Kyle Fuller will be back in action as WORCS heads to Buffalo Bill's Resort and Casino January 27-29 in Primm, NV.
Kyle Fuller 2017 Sponsors:
Duncan Racing, STI Tires, Elka, RK Chains, Moose Racing, X Brand Goggles, Fasst Company, Maxima, CPJ Fitness, Crossfit H2.