El Cajon, CA (1/31/2017) - Despite the lingering effects of a concussion sustained in the first round, Duncan Racing's Kyle Fuller scored a pair of sixth-place finishes in the WORCS racing ATV races in Primm, NV. Fuller raced the #145 Honda in both Production A and Pro Am.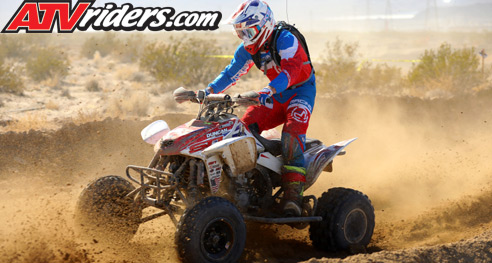 Duncan Racing's Kyle Fuller scored two sixth-place finishes in Round 2 of the WORCS Series.
Despite running consistent laps in the Production A event, a broken heel guard slowed his charge there. In Pro Am, Fuller experienced vertigo that slowed his charge. Fuller was involved in a hard crash during the first round and found out the week after that he had sustained a concussion.
"I didn't feel well; my concussion is still messing with me," said Fuller. I was good for a while, and I'd get some blurry vision and lightheadedness. My bike ran flawlessly. The engine just pulled the whole way on those long straightaways. Doug Roll really took care of me and redid the Elka shocks. The bike handled awesome. The STI tires worked great. Really, everything was great…except me."
STI's Kyle Fuller ran consistent laps in Production A, despite a hard crash in Round 1 that ended with a concussion.
Fuller said, other than his head injury, that his body is where it needs to be. He is ready to show what he can do in three weeks when WORCS heads to California.
"My fitness was there," said Fuller. "I wasn't tired, but I just couldn't push like I wanted to. I'm looking forward to Taft because I want to show what I know I can do. It's hard to keep me down. I've come back from a lot worse than this."
Fuller will be back in action as WORCS heads to Honolulu Hills Raceway in Taft, CA February 17-19.
Kyle Fuller 2017 Sponsors:
Duncan Racing, STI Tires, Elka, RK Chains, Moose Racing, X Brand Goggles, Fasst Company, Maxima, CPJ Fitness, Crossfit H2.