BEST IN THE DESERT
UTV World Championship
Los Angeles, CA (4/27/2017)
- Christine "GZ" Giampoli Zonca, a veteran of European rally racing, is driving a Can-Am X3 for Dynamic Off Road Racing in the Best in the Desert Series. GZ made an impressive top ten debut in the Pro Turbo class with co-driver, Paul Kraus at the UTV World Championship in Laughlin, NV.
GZ is a veteran rally racer who lives in the Canary Islands. She has a degree in Motorsports Engineering, has run her own mechanic shop and has a long history of success in European rally racing, including winning the 2016 Spanish Rally Championship and experience in the World Rally Championship. She was the first ever driver on a female-only team to finish a WRC race.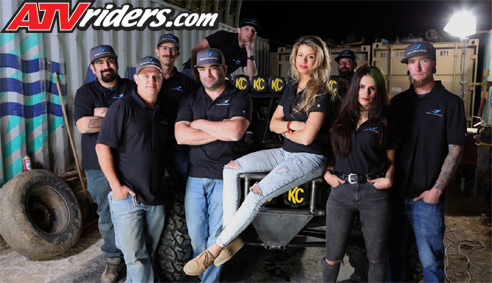 Christine "GZ" Giampoli Zonca & Luy Galan join the Dynamic Off-Road Racing Team at the BITD UTV World Championship
Kraus found GZ through social media after an exhaustive search for a professional driver to anchor his three-car desert racing team. Despite being sick, driving a brand new Can-Am Maverick X3, a broken GPS, and with little experience in desert racing, she managed a top-10 finish in the grueling 160-mile race.
"We had been looking for a professional driver for the team," explained Kraus. "We are dedicated to building a diverse team from many backgrounds such as rally and motocross so by putting this much money into a racing team we thought it was important to have one person on the team whose sole vocation is as a racing driver and could be the centerpiece of the Dynamic Racing brand. So we got her into the car and had her go racing. It's really the best job interview you can do."
Christine "GZ" Giampoli Zonca made an impressive Best in the Desert Pro UTV Racing debut by securing a Top Ten finish at the UTV World Championship
GZ will also race for the team in the upcoming Vegas to Reno BITD race, the Baja 500, the Baja 1000, as well as the balance of the BITD season. She will also put her engineering skills to use preparing the cars prior to the races. Kraus was impressed with her debut run.
"She got right into the car and she drove very well," said Kraus. "I think she was surprised at how rough it got at the end of the race. Also, our GPS wasn't working so I had hand drawn notes we were navigating from. She did very well and was more conservative because it was her first race. Give her a few more races and she'll be on the podium and winning races"
Christine "GZ" Giampoli Zonca was driving teams brand new Can-Am Mavaerick X3 at the UTV World Championship
Kraus had just taken delivery of the new Can-Am maverick X3 from Buckshot Racing. Despite showing only a few miles on the odometer prior to the event, the car had few teething problems. Kraus also fields a car for Jason Farrell and Jeremiah Smith at the UTV World Championship
"The car had about 35 miles on it," said Kraus. "It was unproven, but we only had a few little issues. It's a very solid car, we are extremely happy with the design." "We are building two more X3's with Buckshot and both will be ready for V2R". "Christine will be joined by her Rally co-Driver Luy Galan, It's a great transition of two phenomenal drivers"
Dynamic Off Road Racing will now have just over a month to prepare for the SCORE BAJA 500 when GZ will join the team once again south of the border on June 3rd.