Eleven18 Powersports Rebuilds Military Family Quads
Makenna & Kolton Schroeder Mini Quad Builds
Bellevue, OH (10/6/2017) - Eleven18 Powersports met the Schroeder family last fall when they brought their children to one of the ATV MX Schools we offer. After meeting them they joined the team my wife and I own, Eleven18 Powersports. We were thankful to have them in our family and began helping them with racing/quads immediately.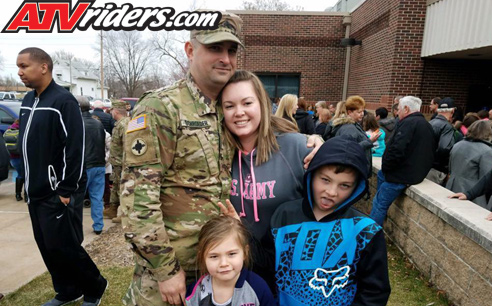 Kyle Schroeder with his family before being deployed to Kuwait
When Kyle got deployed to Kuwait last February we knew Charla was going to struggle keeping the kids racing especially since their son Kolton's quad wasn't correctly built and had been that way since they purchased it used.
After Kyle Schroeder deployment he was diligently trying to get Kolton's quad righ,t so they could race this summer and not have to wait until he returned next February. Realizing that this family was missing races because of their military budget and mostly the fact that Kyle was deployed didn't sit well with my wife and I one bit, so we did what we expect of the dozens of riders under our teams name to do, we took action.
I reached out to my connections in the ATV world for help. After getting a great response and knew we had some help, I drove 8.5 hours out to the Schroeder home in Illinois and picked up all the parts, pieces, quads and trailer and brought them home to our 1118 Compound and shop.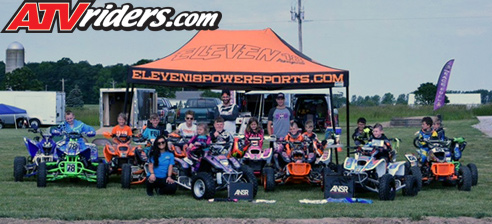 Eleven 18 Boot Camp ATV Training School
On June 10th at our 1118 Boot Camp with Josh Upperman, Zach Gill and Maci Devenport coaching we revealed two much better quads for Makenna and Kolton Schroeder.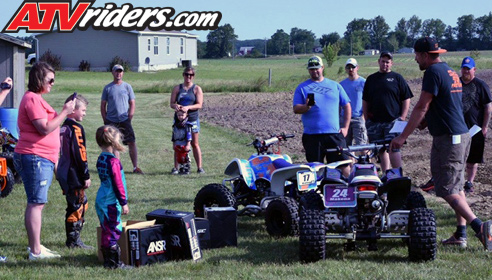 Makenna and Kolton Schroeder are presented with their newly rebuilt Mini ATVs at the 1118 Boot Camp
Makenna is just beginning, so we tuned her quad correctly and put some new Team 1118 Graphics on it, and it was complete.
Makenna Schroeder
Kolton's quad was much more difficult. I built him a full national Malossi MHR 50 engine and did away with his older OEM one. We wrapped it in full DWT A5 wheels and Maxis XM tires. Installed a new digital PVL ignition, Mach 1 Exhaust, Pro Armor Teather Kill, new Team 1118 Graphics kit, newer clutching, Carb and we replaced his old unsafe Coil over shocks with new DRR Piggy Backs. Kolton's quad went from not so good to holy cow good very quickly.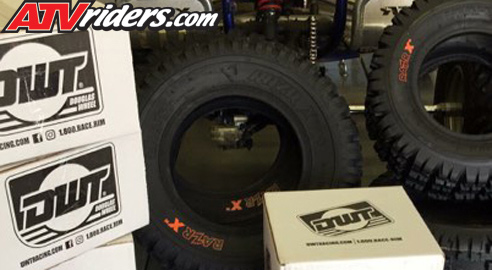 DWT & Maxxis were a few of the companies that sponsored parts to rebuilt the mini quads for Kyle Schroeder's kids
On top of the quad work we also got a bunch of graphics for their trailer that include the name and special thanks to many who had helped. Along with the trailer work several families stepped up with ALL NEW Riding gear for both kids.
Kolton Schroeder
To top it all off we were able to provide the kids a full weekend of riding with over 20 other miniquads some the best in the nation. And, both kids learnt a lot from the three outstanding coaches on hand for our Boot Camp all day Saturday.
The Schroeder family sacrifices so much for all of us to be free and live this racing life. It was the Goodwin families honor as the owners of Eleven18 Powersports to be in a position to make this all happen.
We are going to continue helping this awesome family in anyway that we can and are sure that Makenna and Kolton's racing careers now have a fair chance to be successful even with their dad in Kuwait.