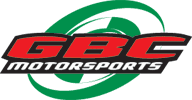 GBC Racers Light Up the Podium at Camp Coker GNCC
Anaheim, CA (4/28/2017) - It was hot and humid in Society Hill, SC as racers and spectators gathered for Round 6 of the Grand National Cross Country series, but the challenging conditions were not enough to keep GBC Motorsports racers from finishing on the podium at the Camp Coker Bullet.
Rob Smith put in the run of the day for GBC Motorsports racers aboard his Dirt Commander-equipped Can-Am. Smith matched his 2016 season-best performance with a 2nd place finish in the stacked 4x4 Pro class, claiming the 2nd best overall time in the process.
Racer Doug Robey has his GBC Motorsports Dirt Commander equipped Can-Am firing on all cylinders, winning the 4x4 A class and earning his best overall ranking with an 11th place finish. Fellow GBC rider Matt Ewart joined Robey on the 4x4 A podium with a 3rd place finish, good for 20th overall.
Katelyn Osburn and Kara Merritt have been consistent this season and proved that the warm weather could not slow them down. Osburn's 3rd place finish was her fourth podium of the season in the WXC class, and Merritt finished just minutes later in 4th place. Silver Masters rider Paul Holleron scored 3rd place in his class, bringing GBC's podium tally to four in the 10am race.
As the day heated up, so too did the competition with the top level sport ATV classes taking to the course. GBC racers fought valiantly in the stacked XC1 Pro class, and once again it was Landon Wolfe leading the way with a 6th place finish. Tucker Wyatt grabbed the number 8 spot, followed by Johnny Gallagher in 9th and Marty Christofferson in 10th.
So far this season the XC2 Pro-Am class has been dominated by GBC's Devon Feehan, but the Honda rider could not pull off another back-to-back class win. Instead it was Matt Lindle with the fastest time for GBC Motorsports, taking 2nd place in the class and 9th overall. Feehan's 4th place finish was his first podium miss of the season, but his strong season start has him atop the XC2 leaderboard.
Another dynamic GBC Motorsports duo scored the top two spots in the Vet A class. Longtime GBC racer Jeff Pickens tore up the Camp Coker course aboard his Ground Buster III and XC-Master tires. In addition to claiming the Vet A victory, Pickens laid down the 2nd best overall time among the amateur classes. Fellow GBC rider Tom Koontz put in a solid race himself, earning 2nd place and bringing the GBC Motorsports podium tally to a total of seven on the day.