Anaheim, CA (6/20/2017) - Racing conditions were hot with small gusts of winds as top racers pulled into starting position in preparation for the day's events. Round 9 of WORCS Racing would prove to be a proud moment for all of us at GBC Motorsports and throughout the sport of off-road racing. Under the sunny skies of Southern California and shrouded in a veil of dust and dirt, riders made last minute changes and adjustments in search of a leg up on the stacked competition. The Summer Festival of 2017 would be remembered for its fierce rivalries and unbelievable battles. In the end, GBC Motorsports would demand the attention of racer and fan alike for professional showmanship and maximum performance.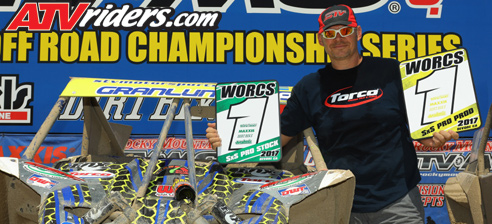 GBC's Nic Granlund Won both SXS Pro & SXS Pro Stock
Round 9 of the WORCS Racing series took racers and fans to Glen Helen Raceway, where a stacked SXS Pro class and SXS Pro Stock class full of skillful racers and modified SXS came together with the same hunger for victory. GBC Motorsports sponsored driver Nic Granlund would be the one to answer the call of battle on the fields of Summer Festival. Getting off to a slow start early on in the race, Granlund's top priority and ultimate goal was closing the gap between himself and 1st position, and landing himself a podium standing. After a series of well-placed maneuvers and quick actions, Granlund was able to evade the pack and snatch 4th position by the 4th lap. The track was battered and competition was tense as riders accelerated towards the end of an unbelievable and unforgettable race.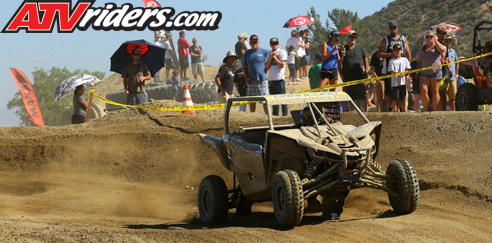 Due to a staggered start and overall faster lap times, Granlund was able to capture 1st place overall. In the SXS Pro stock class, Granlund got off to a top 3 start and was able to separate from the pack. Engaged in a high speed battle for the lead, the off-road section of the course would prove to be Granlund's strong point. Showcasing his superior driving skills and focus, Granlund made the pass for the victory in the SXS Pro stock class. From all of us at GBC Motorsports, congratulations on your victory and great performance! Nic Granlund is a GBC Sponsored driver, and races on Kanati Mongrels.
Linkon Leaverton has been the reflection of poise and determination since the beginning of this year's WORCS Racing series. Fresh off last weekend's victory at Glen Helen Raceway, Leaverton stood on the first place podium, dirty and content with his run and performance at Round 8 of WORCS. Fast forward to Round 9 and we find Leaverton patiently awaiting the start of the race, mentally preparing for the day's fierce competition.
Currently in 1st place in the standings with a total of 172 class points, Leaverton has been an undeniable force at WORCS Racing. This weekend's race would prove to be an epic battle for the lead, as racers fought for podium finishes in the SXS Production Turbo 1000 class.
After 6 laps of intense racing under the scorn of the California sun, Leaverton would emerge victorious and unscathed to earn his 6th victory of the series. Leaverton, was able to maintain his lap times through smart driving and sheer willpower as racers collided and smashed against each other for the fans at Summer Festival. Leaverton has shown no signs of fatigue as we prepare for the next round of WORCS Racing. From all of us at GBC Motorsports, Congratulations on your victory and great performance! Linkon Leaverton is a GBC Sponsored driver, and races on GBC Dirt Commanders.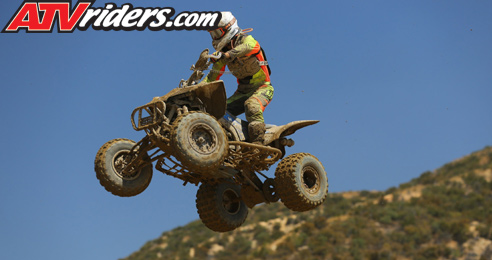 GBC's Logan Huff
Under the cheers of devoted fans and lost in the engine rumble, Pro-Am ATV racer Logan Huff was looking to close the distance after getting off to a bad start in Round 9 at the Summer Festival. The dusty, dry track conditions, combined with the scorching sun and heat, proved to be a worthy adversary as Huff and fellow racers jousted for position early on. Huff would continue to battle alongside other top tier racers as the war for Pro-Am championship was fought under the skies of Glen Helen.
A well fought battle thru dusty dry conditions and onto muddy sections kept racers on their A-game. It was rider vs. rider for the victory and Round 9 bragging rights. In the end, Huff was able to secure a 3rd place overall and 2nd in class. The Pro-Am ATV class is filled with both talented riders and future champions, all featuring a unique skill set or talent and looking to leave their mark on the ATV racing circuit.
When it comes to ATV racing and names to remember, Logan Huff is definitely a fan favorite. From all of us at GBC Motorsports, Congratulations on your victory and great performance! Logan Huff is a GBC Sponsored rider, and races on XC-Masters and Ground Buster IIIs.
GBC Sponsored Riders - Honorable Mentions
SXS 1000 Jason Meckler 1st place. Rides on Kanati Mongrels
SXS 900 Jeremiah Wagner 1st place. Rides on Kanati Mongrels
SWS Women's Emily Green 3rd place. Rides on Dirt Commanders
SXS Youth 800 Casey Simms 1st place. Rides on Dirt Commanders
SXS Youth 250 Aaron Cuveas 2nd place. Rides on XC-Master
SXS Pro Stock Cody Bradbury 3rd place. Rides on Dirt Commanders.

About GBC Motorsports:
GBC Motorsports was established in 1995, as a way of bringing performance tires to every style of riding in the power sports market. GBC Motorsports remains at the forefront of design and performance with signature tires for both UTV and ATV applications.