Slick Conditions Slow Mickey Thomas at Chicagoland Slam
TORC Championship Pro Stock UTV • Rounds 1-2 Race Report
Cumming, GA (5/25/2017) - Ever competitive SXS driver Mickey Thomas brought a brand new Yamaha YXZ 1000R with his new Hans Ada Racing Team to the season opener for the TORC Off Road Championship at the Dirt Track at Route 66 Raceway in Joliet, IL. After a great practice and qualifying fourth, the wet track slowed Thomas in the first of two features and ended his weekend early.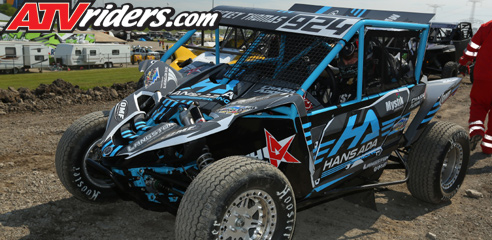 Mickey Thomas has teams up with Hans Ada to compete in the 2017 TORC Championship in the Pro Stock UTV class
After the practice and qualifying results, Thomas was ready to get back his winning ways. However, the team was running a sprint car type tire. After the track was inundated to reduce dust prior the feature, Thomas did everything he could to stay in contention.
"The car was super fast all weekend," said Thomas. "We got ready for the start of the race, but they watered the track a ton and we just didn't have the right tire for the conditions. We still managed to keep pace at the halfway point, but the car started overheating and we had to pull in."
Thomas missed the second day of competition after engine trouble, caused by the overheating, reared its head prior to the race. Team Manager, Hans Ada, said the team learned a lot during the weekend and they will be ready at the next round in June.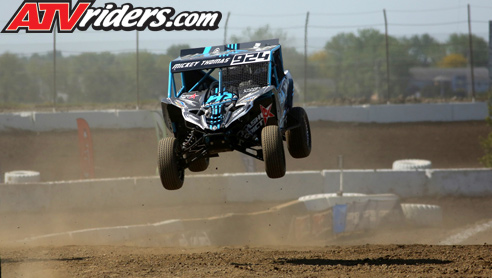 Mickey Thomas qualified 4th for Round One of the TORC Series
"The weekend was going perfectly," said Ada. "There were 54 cars in Pro Stock and we started fourth. Unfortunately, the wet track at the beginning threw us a curve ball. He was spinning his wheels and that overheated the car. After the competition caution, the track came in and he shot from eighth back to fourth, but the engine had overheated. That's just racing."
Thomas will again rack up the frequent flier miles this season. Along with TORC, he's also racing a Pro Lite truck and Yamaha UTV in the Lucas Oil Series. Immediately after the TORC race, he was on a airplane to Ensenada, Mexico for round two of the Lucas series.
"We'll be back at the next race with Hans Ada Racing," said Thomas. "We want to get on the box, and we'll have a good chance at doing that."
Thomas will be ready as the TORC Off Road Championship next visits ERX Motorpark in Elk River, MN. That race is scheduled for June 10-11.
2017 TORC Series Sponsors:
Bikeman Performance Engines. Hans Ada Racing, Langston Motorsports Yamaha, Crash Addict, Walker Evans Racing, OMF Wheels, Andersin Design, Drive Motorsports International